IHRC are delighted to bring you this exciting webinar, BDS: Challenges, Successes and The Way Forward. With a fantastic panel line up of speakers, this webinar promises to be enlightening as well as informative.
Date and Time: Saturday 19th December at 5PM, www.ihrc.tv
BDS: Challenges, Success and The Way Forward
In 2005 numerous Palestinian civil society organisations launched the campaign for Boycott Divestment and Sanctions (BDS) against Israel and companies complicit in Israel's illegal occupation of Palestinian territories. The campaign aimed 'to pressure Israel to comply with international law and to end international support for Israel's regime of settler colonialism and apartheid' (https://bdsmovement.net/call).
That regime was clearly identified as the basic cause of the Israel-Palestine conflict and likewise complicity with the regime as a systemic obstacle to Palestinian rights.
The BDS campaign has a crucial role to deter such complicity, in both its material and ideological forms, as well as to strengthen public understanding of the Israeli regime as institutionally racist. There are opportunities to do so in several sectors, e.g. the arms trade, sports, academia, culture, etc. How can we make the BDS campaign more effective? How can we better link the various parts of the BDS campaign?
Speakers:
Huda Ammori, Stop Elbit Campaign and Apartheid Off Campus
Mick Napier, Scottish Palestine Solidarity Campaign (SPSC)
Zwelivelile Mandela, African National Congress (ANC) MP
Les Levidow, Jewish Network for Palestine (JNP)
Saturday 19th December at 5PM
Supporting organisations: IHRC, Scottish PSC, Jewish Network for Palestine, BRICUP, AIM, Inminds Human Rights Group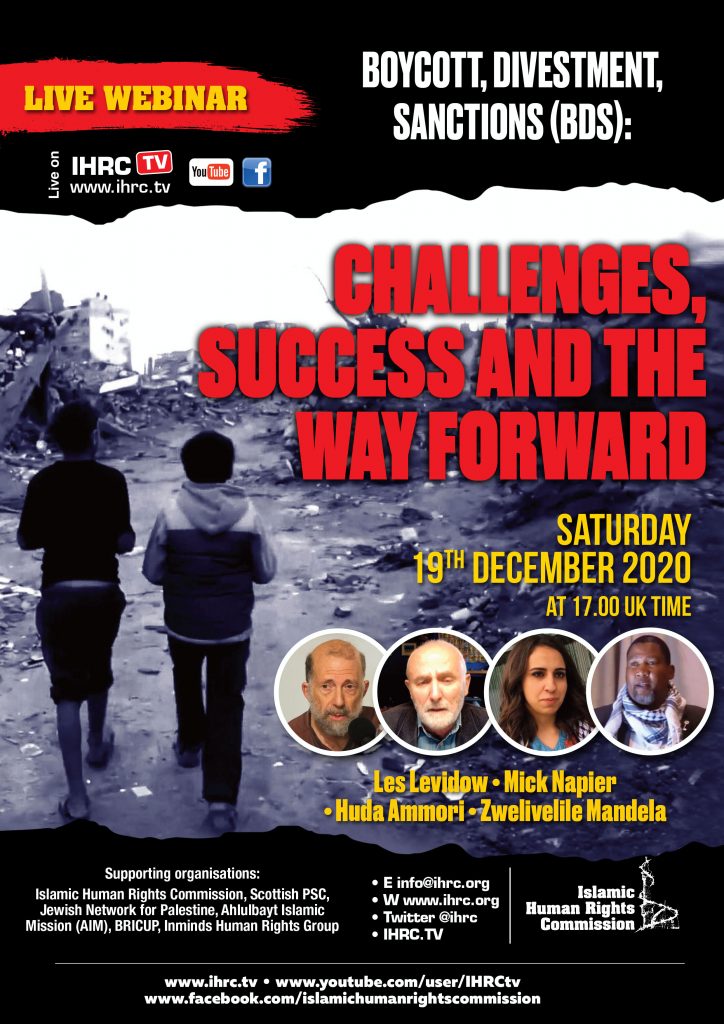 You can also watch the webinar on our Youtube and Facebook pages:
https://www.youtube.com/user/IHRCtv