Islamophobia Conference 2021

On 11 and 12 December 2021, IHRC's annual Islamophobia conference will address the questions posed by Muslim participation in civic and political life in the so-called 'West,' including countries like the UK, the US, the European Union, Australia and Canada.
WHEN: Saturday 11 and Sunday 12 December 2021
WHERE: Online ihrc.tv and YouTube and Facebook
Co-organised by Islamic Human Rights Commission (IHRC), Scotland Against Criminalising Communities (SACC) and the Decolonial International Network Foundation (DIN).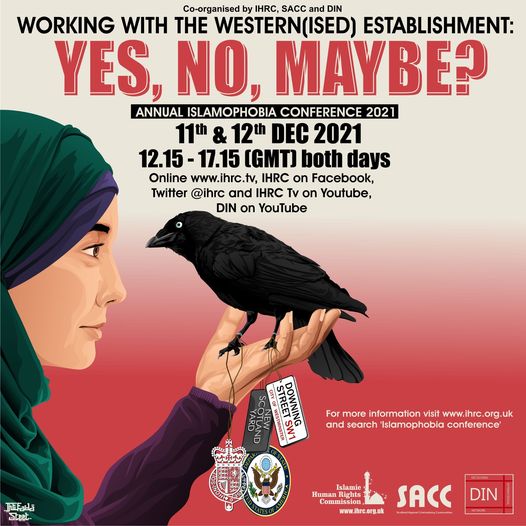 Author Evening with Mostafa Salameh: Dreams of a Refugee
Join us tomorrow for an author evening with Mostafa Salameh for his book Dreams of a Refugee: From the Middle East to Mount Everest. This book is available to purchase from shop.ihrc.org.
WHEN: Friday, 10 December 2021, 6.45pm GMT
WHERE: The event will no longer be held at the Bookshop.
Watch online on IHRC.TV, YouTube and Facebook
Dreams of a Refugee is the extraordinary story of Mostafa Salameh, born in Kuwait to Palestinian refugees, who after a difficult upbringing and a series of low-paid jobs, was given a rare opportunity to travel to London, working in hospitality at the Jordanian Embassy. From there he moved to Edinburgh, where he took up a life of parties and nightclubbing. Religion played no part in his thinking. But one night, Mostafa awoke having dreamt that he was standing at the top of the world reciting the adhan, the Muslim call to prayer. He took this as a sign that he needed to accomplish something previously unimaginable for a person in his position – to climb Everest.
Yet exploring is only part of the story. Now a devout Muslim, Mostafa is committed to spreading the message of tolerant Islam, working with refugees and young people to help them further their goals. Through climbing he has raised hundreds of thousands of pounds for charity.
Author Evening with Saeid R. Ameli and Saeed A. Khan
Join IHRC on 14 December, for an author evening with Saied R. Ameli and Saeed A. Khan for their book, What's Going on Here? US Experiences of Islamophobia between Obama and Trump. This book is available to purchase from shop.ihrc.org.
WHEN: Tuesday, 14 December 2021, 6.45pm GMT
WHERE: watch the event LIVE on www.ihrc.tv, Facebook and YouTube.
About the book:
Saied R. Ameli is joined by Saeed A. Khan to overview and analyse Islamophobia and the experiences of Muslims in the USA. Using Ameli's Domination Hate Model of Intercultural Relations (DHMIR) the authors look at developments from the end of the Obama regime to the current Trump administration setting them within the long view of the establishment of the USA. Following on from the survey findings in California in 2011-12, this book utilises original survey material from Chicagoland in 2014-15.
Watch the Author Evening with Samia Khatun: Australianama
Last month IHRC hosted an author evening with Samia Khatun who discussed her book, Australianama. To watch the video, click below. 
Vaccination Hesitancy: Q&A Session
IHRC hosted Dr. Tawfique Chowdhury in a online Q&A session discussing vaccine hesitancy from a medical and Islamic perspective. Vaccine hesitancy is described as "a delay in acceptance, or refusal of vaccines despite the availability of vaccine services". Click below to view the video.
Below are a couple of books available at our store. For more books, click here.
Tales of Mini Maryam – Kosser Abdul Aziz
Maryam whizzes around her house collecting and loading almost everything on to her tiny push chair, only to be met with disaster but, is all at loss? No, for Maryam remembers the power of dua (prayer). What do we say after we have sneezed? Why do people go on pilgrimage?
Can mini Maryam pray with her family? What do we say before we eat? Curious mini Maryam soon finds out.
Join Maryam as she discovers when and why to read certain Islamic prayers and to also keep her family in check!
On the Sociology of Islam – Ali Shariati
Dr Ali Shari'ati (1933-1977) was a teacher, scholar and writer, who had a dynamic influence on the young people of Iran with his classes, discussions, free lectures and articles during the 1960s and 1970's. Shari'ati was a sociologist, educated in Mashhad and Paris, as well as a student of history and philosophy.
This anthology – translated by the esteemed Professor Hamid Algar – presents of his major ideas.