Join IHRC and Bradford Foundation Trust for a Q&A discussion on vaccine hesitancy from a medical and Islamic perspective. Vaccine hesitancy is described as "a delay in acceptance, or refusal of vaccines despite the availability of vaccine services". If you have any questions around the Coronavirus vaccine, send in your questions for discussion.
WHEN: Thursday, 14 October 2021, 3pm (UK time)
WHERE: IHRC.TV, Facebook and YouTube – see website below for links
Speaker: Dr. Tawfique Chowdhury (Consultant of Emergency Medicine and Chairman of Mercy Mission Worldwide)
How to send in your questions:
On the IHRC Instagram page (@ihrcbookshop)
Email your questions to events@ihrc.org (please put 'vaccine q&a' in the subject line otherwise your question might get missed)
Send in your questions on Facebook or YouTube during the event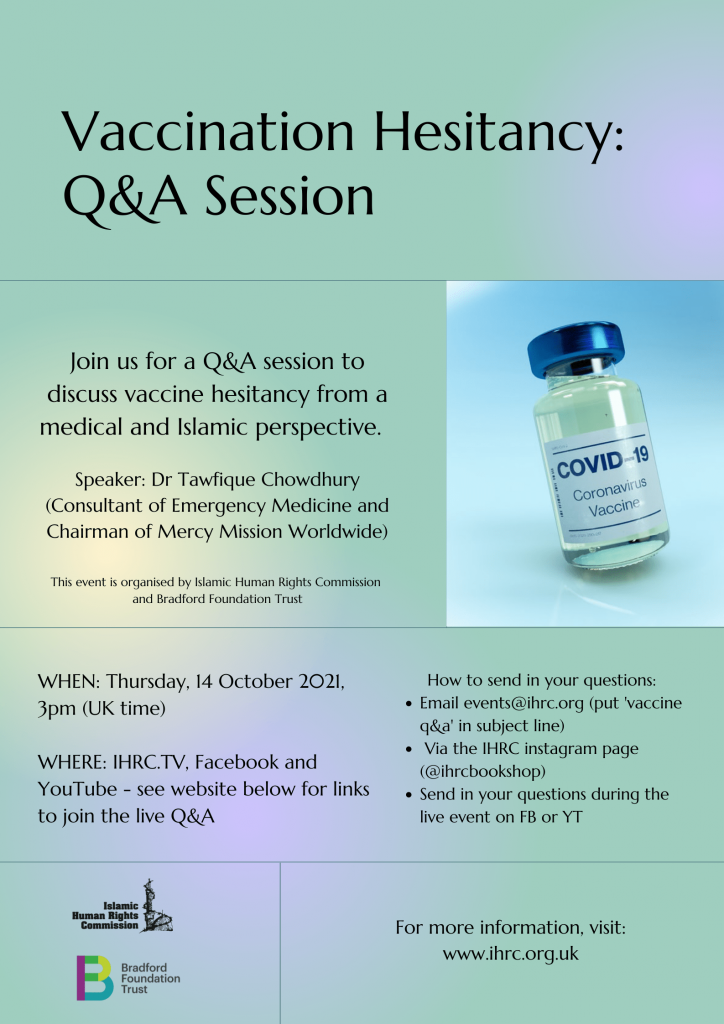 About the speaker:
Dr Tawfique Chowdhury is the Chairman of the Mercy Mission movement. He started Mercy Mission through its first program – AlKauthar Institute – in 2005. Since then, Mercy Mission has flowered into one of the world's fastest growing social services organisation delivering innovative, educational and social service programs to millions of people across the globe and setting up well known global organisations, such as National Zakat Foundation, Charity Right, Seven Skies International Schools and Ramadan TV. Mercy Mission currently operates in 14 countries across 5 continents. Dr Tawfique has recently been ranked amongst the top 500 most influential Muslims in the world by TheMuslim500.
Dr Tawfique, a world-renowned Islamic Speaker, excelled in his Islamic studies both classically from the scholars of Medina, as well as graduating from the college of Shari'ah from the Islamic University of Medina. He is also an experienced business professional having been a CEO of a multinational IT company and works part time as a Senior Emergency Doctor in Australia having trained at the renowned Gold Coast University Hospital A&E Department. He is presently the Executive Director of the Andorra Hospital – Malaysia's first private Maternity and Pediatric Hospital. He is also a corporate trainer, business coach and mentor to many successful people worldwide.
Being a prolific speaker, Dr Tawfique has travelled internationally sharing his knowledge in many countries worldwide. He is an acclaimed speaker on Islam, social entrepreneurship, business and corporate strategy, and organisational development. He is well known for specialising in Islamic legal topics, particularly in Islamic finance, personal law and Islamic Medical Ethics and his opinions in these matters are eagerly sought.
He currently resides in Kuala Lumpur, Malaysia, with his wife and eight children.