IHRC will be holding a live webinar on Sunday 01 Nov on the subject of a One state solution for Palestine alongside supporting organisations Scottish PSC, Inminds Human Rights Group, Jewish Network for Palestine, BRICUP, Ahlulbayt Islamic Mission.
The failure of the Two state solution, due to the destructive actions by Israel, and continued building of illegal settlements on Palestinian land, has brought about renewed interest in the Single, democratic state solution to the settler-colonial conflict in Palestine.
This solution was the official position of the PLO until 1988, and is the only solution which offers equal rights for all in Palestine, and an end to the ravages of militarised Apartheid.
Four activists with life-long commitment to a just and peaceful solution to the conflict will be exchanging views about the current situation, and the potential of this solution which is greatly influenced by the end of South African Apartheid.
A live webinar event will be held on Sunday 01 November titled 'Uniting To End Occupation: One State Solution'
Speakers include:
• Professor Dr. Muhammad Marandi
• Awad Abdl Fettah
• Dr. Ghada Karmi
• Michel Warschawski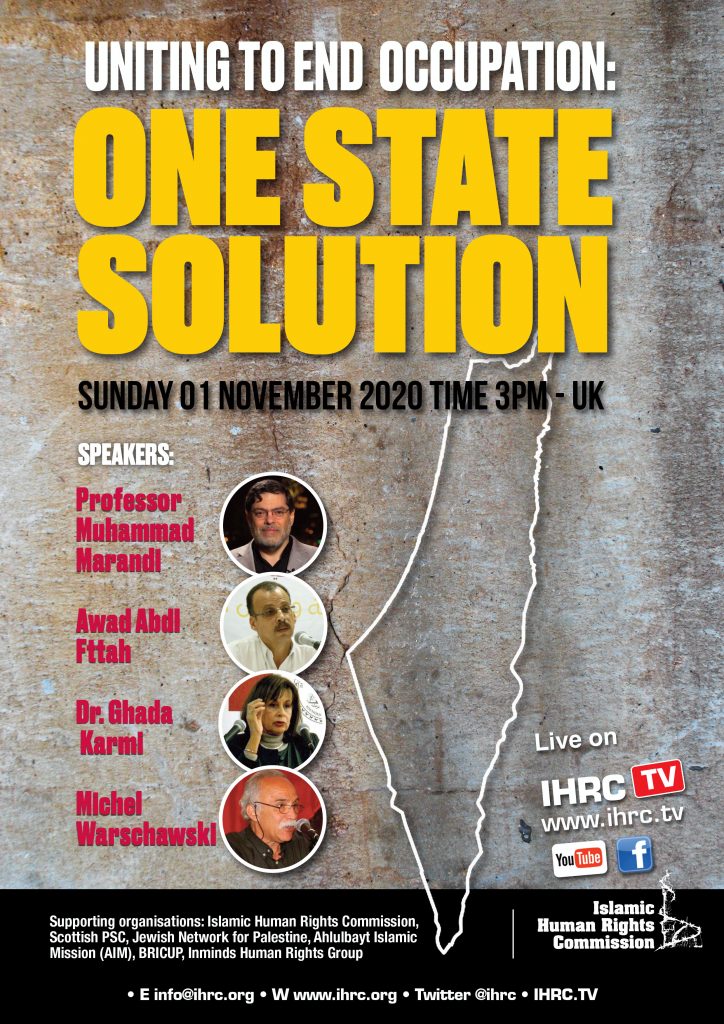 Date and Time:
Sunday 01 November 2020
3:00 pm UK
Live on FB, YT and www.ihrc.tv
https://www.youtube.com/user/IHRCtv
https://www.facebook.com/islamichumanrightscommission
Awad Abdelfattah is a political activist and writer; he is the former general secretary of the Balad party. He is the coordinator of the Haifa-based One Democratic State Campaign, established in late 2017, and the leading organisation advocating single, democratic state in the whole of Palestine as a just, peaceful political solution to the settler-colonial conflict.
Dr. Ghada Karmi is leading author on Palestine and the Israeli occupation, and a life-long political activists. Some over many books deal with the political solutions to the settler-colonial conflict, and she has been a pioneer of the argument for a single democratic state in the whole of Palestine.
Dr. Muhammad Marandi is an academic and political analyst. He is the professor of English Literature and Orientalism at the University of Tehran. He is frequently cited on media outlets such as Press Tv, Al Jazeera, BBC and RT.
Michel Warschawski, a veteran journalist and peace activist, founded the Alternative Information Center (AIC) in Jerusalem, a Palestinian-Israeli news organization that disseminates information, research and political analysis on Palestinian and Israeli societies. The Alternative Information Center (AIC) received the 2012 Human Rights Prize of the French Republic for its human rights work in Israel and Palestine.
Warschawski has written his biography On the Border and his co-authored book The 33 Day War: Israel's War on Hezbollah and its Consequences are available from the IHRC Bookshop. He joined us in July 2016.