Join the Struggle for justice, online, #AlQudsDay2020. Watch on the links below.
---
You can watch a live stream from 5pm – 7pm BST:
On Facebook
On YouTube
or via our homepage – click A lQuds Day Live from 5pm BST.
Join the event on YouTube and Facebook for #AlQudsDay2020 on Friday 22 May 2020 between 5-7pm BST.
Running alongside the rally is the Fly The Flag campaign, running throughout Ramadan and particularly in the last ten days, 15 May onwards). Find more details here.
For the first time in its history, this year's UK Al-Quds Day will go online as a result of the Covid-19 epidemic. Find details of the speakers below. Page continues after image.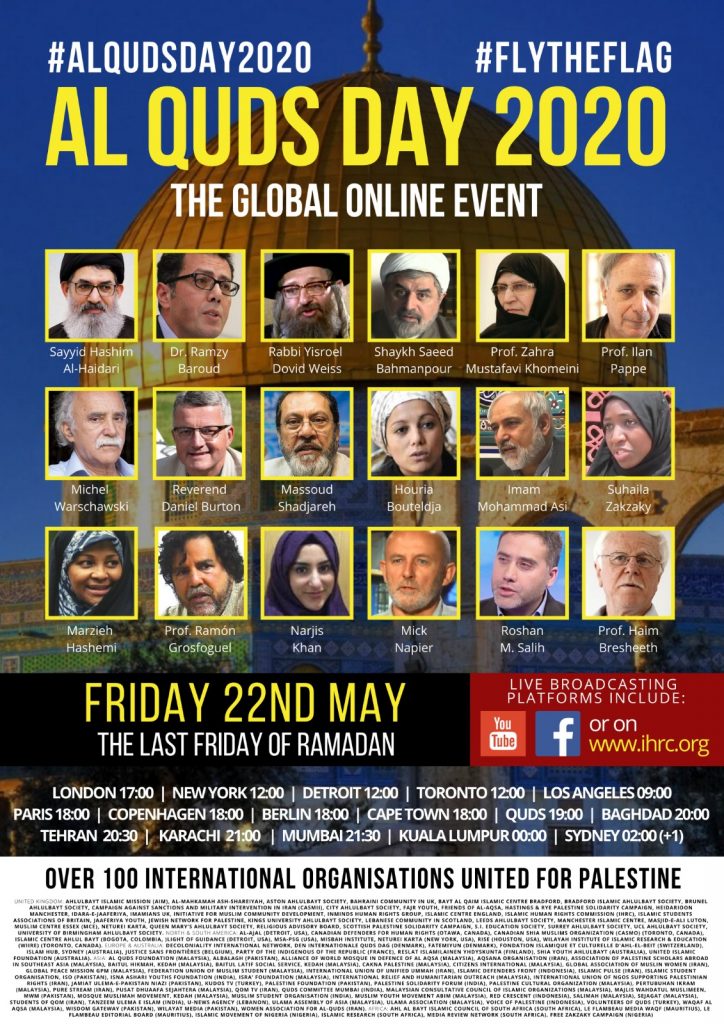 The forced cancellation of the annual marches and rallies around the world does not mean forgetting the Palestinians at this important time of the Islamic year.

Each year on the last Friday of Ramadan, millions of people pour out onto the streets of cities around the world to voice their support for Palestinians and to call for an end to the Zionist regime's atrocities and occupation.

To mark the occasion this year, the Justice for Palestine Committee will be streaming messages from a wide array of community leaders, activists and public figures.
The online event will also include presentations reminding people of the Palestinians' plight.

As the Coronavirus rips through countries everywhere, nowhere is the disease likely to be more keenly felt than in Palestine, particularly in Gaza where millions of people live cheek by jowl in one of the most densely populated places on earth.

Their suffering is amplified by Israel's weaponisation of Covid-19 to prevent the entry of much needed medical equipment into Palestine and the passage of Palestinians across checkpoints to access health care in Israel or outside (watch the video at the end of the page for more information).

* The original organisations supporting this call are:
Islamic Human Rights Commission, UK
Ahlulbayt Islamic Mission, UK
Scottish Palestine Solidarity Campaign, UK
CASMI, UK
Jewish Network for Palestine, UK
Campaign Against Criminalising Communities, UK
Inminds Human Rights Group, UK
Lebanese Community in Scotland
Bahraini Community in UK
Islamic Student Associations in Britain
Neturei Karta, UK
Neturei Karta, USA
As of 18 May 2020 the following have become supporting organisations:
Hastings & Rye Palestine Solidarity Campaign, United Kingdom
Imamians UK, United Kingdom
Jaaferiya Youth, United Kingdom
Masjid-e-Ali Luton, United Kingdom
Muslim Community Essex (MCE), United Kingdom
Al-Ajal (Detroit), United States
Light of Guidance (Detroit), United States
Muslim Student Association PSG (MSA-PSG), United States
Misbah Institute, United States
RISE (Houston), United States
Canadian Defenders For Human Rights (CD4HR), Canada
Canadian Shia Muslims Organization (CASMO), Canada
Wilayah Institute of Islamic Research & Education (WIIRE), Canada
Den Internationale Quds Dag (Denmark), Europe
Fatemiyun (Denmark), Europe
Justice Sans Frontières (Belgium), Europe
Reslat islamilainen yhdyskunta (Finland), Europe
Decoloniality International Network, Europe
Albalagh (Pakistan), Asia
Tanzeem Ulema E Islam (India), Asia
Islamic Pulse (Iran), Asia
Kudos TV (Turkey), Asia
Palestine Solidarity Forum (India), Asia
Pure Stream (Iran), Asia
Qom TV (Iran), Asia
Muslim Student Organisation (India), Asia
Students of Qom (Iran), Asia
Tanzeem Ulema E Islam (India), Asia
Volunteers of Quds (Turkey), Asia
Wisdom Gateway (Pakistan), Asia
Wilayat Media (Pakistan), Asia
Ahl al Bayt Islamic Council of South Africa (South Africa), Africa
Islamic Research (South Africa), Africa
Media Review Network (South Africa), Africa
Free Zakzaky Campaign (Nigeria), Africa
Idara-e-Jaaferiya, United Kingdom
Party of the Indigenous of the Republic, France
Islamic Centre England, United Kingdom
Voice of Palestine, Indonesia
Indonesia Red Crescent, Indonesia
Islamic Defenders Front, Indonesia
Fajr Youth, United Kingdom
UCL Ahlulbayt Society, United Kingdom
Kings Ahlulbayt Society, United Kingdom
Queen Mary's Ahlulbayt Society, United Kingdom
City Ahlulbayt Society, United Kingdom
Brunel Ahlulbayt Society, United Kingdom
Surrey Ahlulbayt Society, United Kingdom
Aston Ahlulbayt Society, United Kingdom
University of Birmingham Ahlulbayt Society, United Kingdom
Leeds Ahlulbayt Society, United Kingdom
Bradford Islamic Ahlulbayt Society, United Kingdom
Malaysian Consultative Council of Islamic Organizations, Malaysia
Alliance of World Mosque In Defence of Al Aqsa, Malaysia
Ulama Assembly of Asia, Malaysia
Isra' Foundation, Malaysia
Citizens International, Malaysia
Al Quds Foundation, Malaysia
Pertubuhan IKRAM, Malaysia
Palestine Cultural Organization, Malaysia
Muslim Youth Movement (ABIM), Malaysia
Federation Union of Muslim Student, Malaysia
Cakna Palestine, Malaysia
Global Peace Mission (GPM), Malaysia
Sejagat, Malaysia
Salimah, Malaysia
Association of Palestine Scholars Abroad in Southeast Asia, Malaysia
Ulama Association, Malaysia
International Relief and Humanitarian Outreach, Malaysia
Waqaf Al Aqsa, Malaysia
Baitul Hikmah (Kedah), Malaysia
Baitul Latif Social Service (Kedah), Malaysia
Mosque Muslimah Movement (Kedah), Malaysia
Pusat Dhuaafa Sejahtera, Malaysia
Quds Committee Mumbai, India
Friends of Al-Aqsa, United Kingdom
Quds Freedom Movement, India
Federation Of Karnataka Muslim Association, India
Bayt Al Qaim Islamic Centre, United Kingdom
S.I. Education Society, United Kingdom
Religious Advisory Board, United Kingdom
Al-Mahkama Ash-Shareiyah, United Kingdom
International Union of Unified Ummah, Iran
Aqsana Organisation, Iran
Palestine Foundation, Pakistan
International Union of NGOs Supporting Palestinian Rights, Iran
Majlis Wahdatul Muslimeen, Pakistan
Jamiat Ulema-e-Pakistan Niazi, Pakistan
Islamic Center Ahlul Bayt (Colombia), Colombia
Fondation Islamique et Culturelle d'Ahl-el-Beit, Switzerland
Azean Brothers' Club, Ethiopia
Salaam Islamic Center, Ethiopia
Ahlul Bait Mission, Ghana
Manchester Islamic Centre, UK
Heidarioon Manchester, UK
Islam Hub, Sydney, Australia
United Islamic Foundation, Sydney, Australia
Shia Youth Ahlulbayt, Australia
Islamic Student Organisation (ISO), Pakistan
Al-Quds Day Committee, New York, USA
Watch Mondoweiss' virtual seminar on the Israel's weaponisation of the Covid-19 crisis.
Page updated 16 May 2020 [created 25 April 2020]