IHRC held the conference The New Colonialism: The American Model of Human Rights in February 2018 to unmask the systemic problems that undergird US Exceptionalism, with a focus on the Americanisation of Human Rights as tool of US led foreign policy rather than a transformative discourse that seeks to liberate individuals, groups and indeed large sections of society who are oppressed by unjust systems.
This book presents nine contributions from scholar-activists looking at how human rights as theory and practice have been co-opted by the US as part of brutal, racist and colonial foreign and domestic policies.
WHEN: Monday, 20 January 2020, 6.30pm
WHERE: IHRC Bookshop, 202 Preston Road, Wembley, London HA9 8PA
FREE EVENT
Refreshments available
Wudu and prayer facilities available
This event will be streamed live on IHRC.TV and Facebook. By attending this event, you are agreeing to being filmed as part of the audience.
IHRC Bookshop is a minute's walk from Preston Road Underground station (Metropolitan line). Free parking on nearby residential roads is also available.
The book can be pre-ordered on-line here, and a digital version can be bought and downloaded here.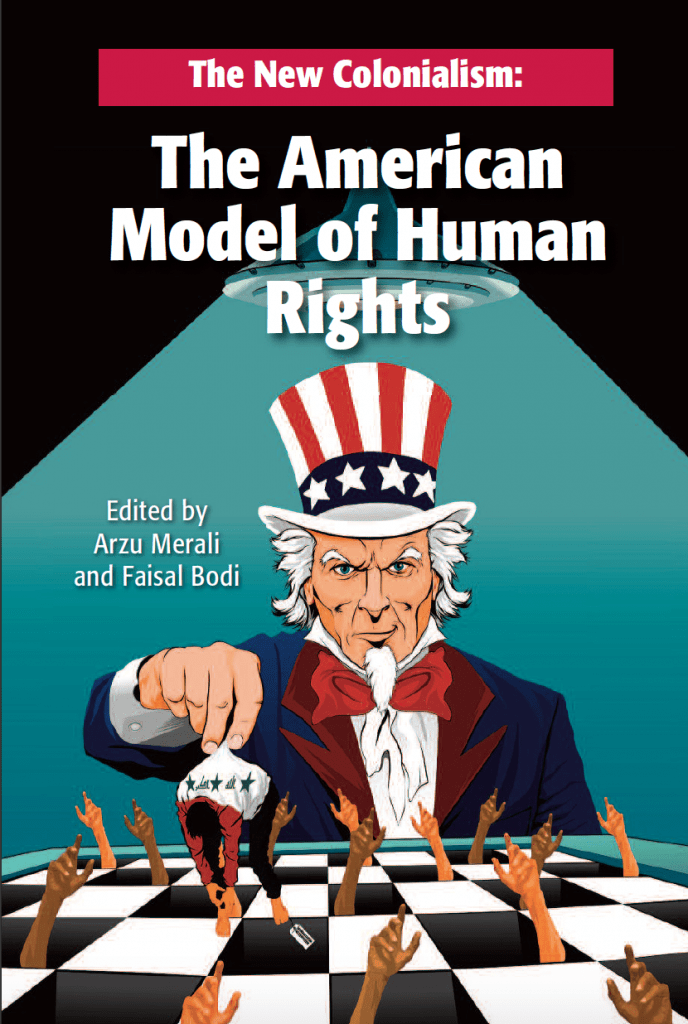 Topics under discussion include elucidations of the theaters and praxis of the new colonialism: third colonialism in cyberspace; the US media, Islamophobic representation and the violation of civil and political rights; the export of the Guantanamo regime from US praxis to refugee detention in Australia; the cross-fertilization of counter-insurgency praxis from France (in the Algerian war of independence) to the US and then beyond.
There is also detailed discussion about the underlying presumption that US praxes are simply exercises in hypocrisy.  Chapters discuss the Kerner Commission's findings and set them within the foundational story of the US as one in which racism and the consequent violation of rights en masse are deeply embedded in the legal and political system of the country.  The idea of the US as an aspirational state founded on a land 'discovered' is exposed as an obfuscation of the genocidal project that not only preceded its foundation, but was central to the imaginary of the US as a state.  There is also a deep and nuanced critique of the Enlightenment ideas that the US if often presented as embodying – at least in theory.
With papers from Saied R. Ameli, Laurens de Rooij, Mary K. Ryan, Saeed A. Khan, Tasneem Chopra, Sandew Hira, Ramon Grosfoguel, Rajeesh Kumar and Sohail Daulatzai.
Saeed A. Khan is Senior Lecturer Near East & Asian and Global Studies at Wayne State University, as well as Research Fellow at its Center for the Study of Citizenship and Honorary Fellow at Australian Catholic University. He is also Cofounder and Senior Fellow at the Institute for Social Policy & Understanding. He is a regular panelist on the Canadian Broadcasting Corporation's Turning Point, as well as a regular contributor to news outlets like the BBC, Veja, Quartz and Time Magazine.