---
The U.S. Embassy in Britain sits in Grosvenor Square in the most expensive part of central London. On an idyllic hot sunny London day in July, on the last Friday of Ramadan, the world's super rich elite were enjoying their picnics in the square. Well at least they were until in the late afternoon, 4000 loud and proud supporters of Palestinian justice marched around the square up to the US Embassy. It was Al Quds Day, the annual day of action and mobilization for Palestinian liberation, established by Imam Khomeini, where he said "The Quds Day is a universal day. It is not an exclusive day for Quds itself. It is a day for the oppressed to rise and stand up against the arrogant." People from all over the UK, including Scotland and those who came in coaches from Manchester, Leicester, Luton, Birmingham, Tooting, Woking and Nottingham, joined us for the auspicious occasion. The march began outside the BBC Broadcasting House on Portland Place, and shut down London's iconic streets, Regent Street and Oxford Street, through to the US Embassy at Grosvenor Square, chanting words of unity as well as naming and shaming along the way all the companies complicit in supporting Israel's illegal occupations. As the rally chairman Nazim Ali made clear at the start of the rally, the US Embassy in London will be in this location for only a few more years after which it will be shifted to a less central location in South London, hence the importance of using actions like today to 'speak truth to power'.
There was an excellent array of speakers who brought the issue of the Zionist state oppression of the Palestinians and their resistance to light at the rally. First to speak was Mohammed Araki from the Islamic Students Association, who stressed why Al Quds Day is such a paramount event. He described the day as "the turning point for the oppressed people of Palestine" where moral-seeking people all over the world "stand shoulder to shoulder" in support of the Palestinian nation and "remind the world of the barbaric crimes and atrocities of the occupying Zionist regime". He ended with sending condolences to the martyrs of Palestine.
Mike Cushman from the Jews for Boycotting Israeli Goods (J-BIG) stated that on this year a decade on from the call for BDS that we must redouble our efforts to boycott, divest and sanction everything that the Zionist state produces, and finished off his contribution by stating: "The most important Hebrew prayer start Sh'ma Yisrael – Hear oh Israel so we say – Sh'ma Yisrael, Hear oh Israel End the Occupation now!"
Sandra Wafta from the Palestinian Prisoners Campaign and InMinds made an eloquent and impassioned plea in support of the struggle of Palestinian prisoners, stressing that the plight of these prisoners in the struggle should never be forgotten but rather given more focus and support. Watfa relayed some shocking statistics in relation to Palestinian children: in a one year period 1,266 children were abducted by the Zionist occupation forces, 600 of these were taken from Jerusalem alone, 40% of those young children were sexually assaulted by the Israeli soldiers during arrest or interrogation. Watfa stated that the Palestinian Prisoners Campaign hold regular protests in solidarity with the prisoners and against the companies that are complicit in their torture and caging.
Sheikh Gulam Hurr Shabbiri fom Luton Masjid Ali stated that those gathered today are from all faiths, and the support for Palestine and the cause for Palestine is not a faith based conflict but one which united all justice loving people no matter what faith and community they may come from. Sheikh Shabbiri also stated that those who call themselves the 'Islamic State' have no right to claim anything in Islam, but on actual fact they are little different to the Zionist state.
Mick Napier from the Scottish Palestine Solidarity Campaign gave a thunderous speech stating that some forty years ago he was protesting in the same square against the USA crimes against the Vietnamese people who were victim to much of the same war mongering and ethnic cleansing that the Palestinians are experiencing today. Napier said that some of the ordinances used by the Zionist state to massacre Palestinians in Gaza one year ago were made in Scotland, but that those who campaign against and take successful direct actions against these arms manufacturers must inspire many more to do likewise so that our own countries are not used for delivering oppression, injury and death to our Palestinian brothers and sisters.
Martin Lejeune from the Freedom Flotilla to Palestine conveyed the voices of those who have taken to the seas to try and break the blockade on Gaza. The last ship on the flotilla he was on just in previous weeks was forces to turn away from its destination in Gaza by the Zionist state, but that he was determined to contribute to breaking the siege and is planning with other colleagues to take a new flotilla, this time leaving from Germany his home country, to Gaza.
The young Rabbi in training, Shimon Keyes form Neturei Karta, gave an eloquent address in stating that it is wrong of the Zionist state to misuse its Jewish heritage to attempt to justify its immoral oppression of the Palestinian people. Keyes stressed that Jewish teaching informs Jews to be courteous and respectful to their neighbours, not to usurp and oppress them. Keyes stated that it is an abomination that the Zionist state kills Palestinian women and children and justifies it with a false narrative of 'security', and no human being needs to kill children to feel safe.
John Rees from Stop the War Coalition stated that one year on from the massacre in Gaza that the message that needs to go out from today from all cities and countries of the world is that while it is positive signs that some mainstream politicians in the West are increasing their criticisms of the Zionist state that those at the grassroots must not rely on them and need to keep the pressure of campaign up so as to ensure that this issue is given more attention and is addressed positively.
The penultimate speaker, IHRC director Massoud Shadjareh gave an uplifting address, stating that those stood together today are very proud that we have united on this the most important global day of mobilization and support for Palestine. That while Saudis, the Zionists and Americans are working together, but we understand what their plans and actions are, but that people across the region and the world are also gathering for justice too and that those attending today and that have organized today are dedicated in making this annual day bigger and bigger every year. The event came to a close with a congregational Dua Wahda, a supplication for unity.
Al Quds Day in London proves yet again this year to be perhaps the most important mobilization in the country for Palestine, one of the few mobilsations for Palestine organized by Black and Asian people, people who are from the region whose families are directly impacted, and by those who do not and will never shy away from espousing a clear pro-liberation discourse in relation to the Palestinian people and their steadfast struggle for liberation.
Acknowledgements
The success of the rally was due to those who are committed to the freedom of the oppressed, to whom we are thoroughly grateful for devoting their time to join us on this significant occasion. The demonstration featured a diverse panel of speakers and campaigners, from grassroots activists, academics and students to rabbis and shaykhs.
We would also like to the thank the supporting organisations who are also dedicated to showing their solidarity to the people of Palestine: Ahl Al-Bait Society Soctland, Ahlul Bayt Islamic Mission, Friends of Al Aqsa, Friends of Lebanon, Innovative Minds, Islamic Centre of England, Islamic Students Association, Jews for Boycotting Israeli Goods, Lebanese Community UK, Malcolm X Movement, Muslim Association of Britain, Muslim Directory, Neturei Karta Internaional, Passion Islam, Scottish Form for Middle East and North Africa, Scottish Palestinian Alliance, Scottish Palestinian Solidarity Campaign and Stop the War Coalition.
For more information about Al Quds Day and previous rallies, please visit: https://www.ihrc.org.uk/activities/projects/9428-al-quds-day.
CLICK HERE TO VIEW THE IMAGE GALLERY
CLICK HERE TO VIEW THE IMAGE GALLERY: PART II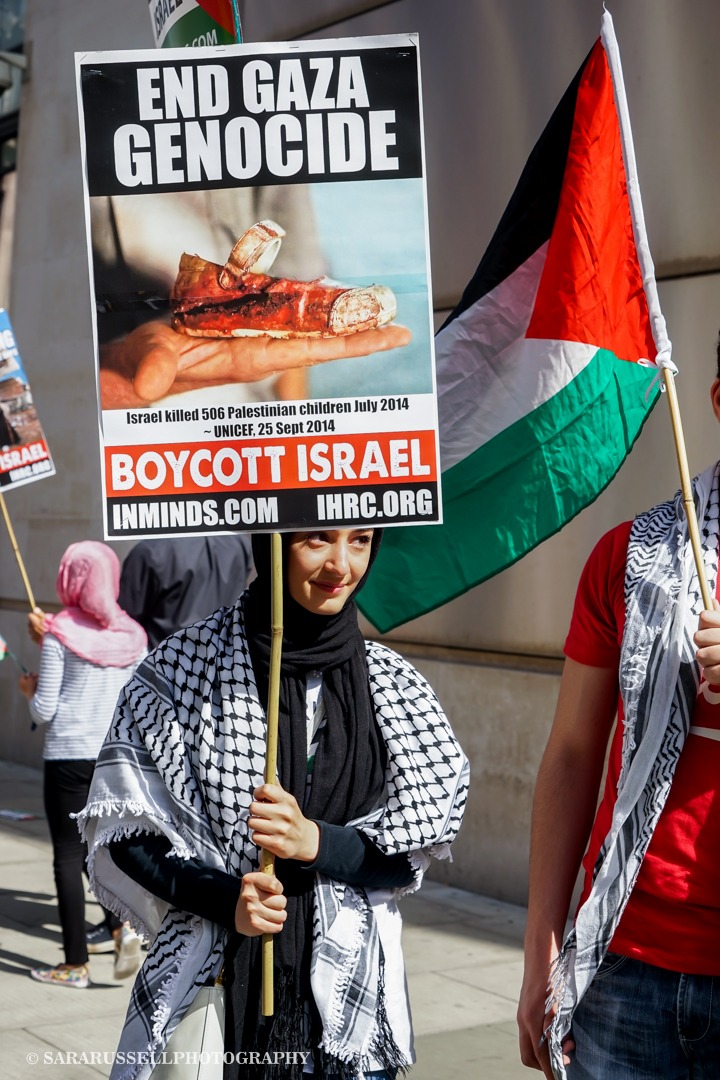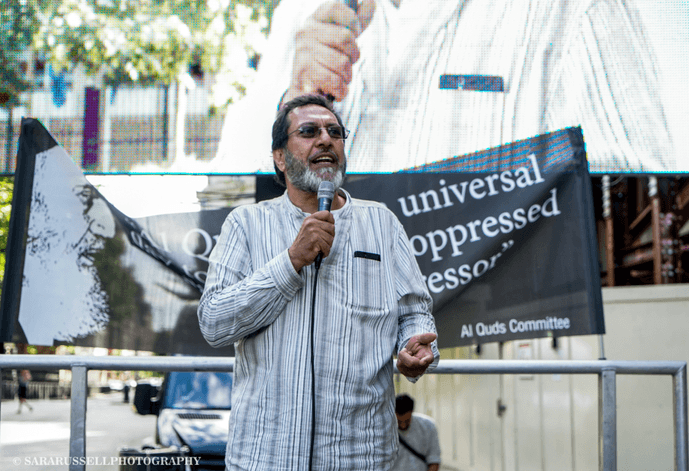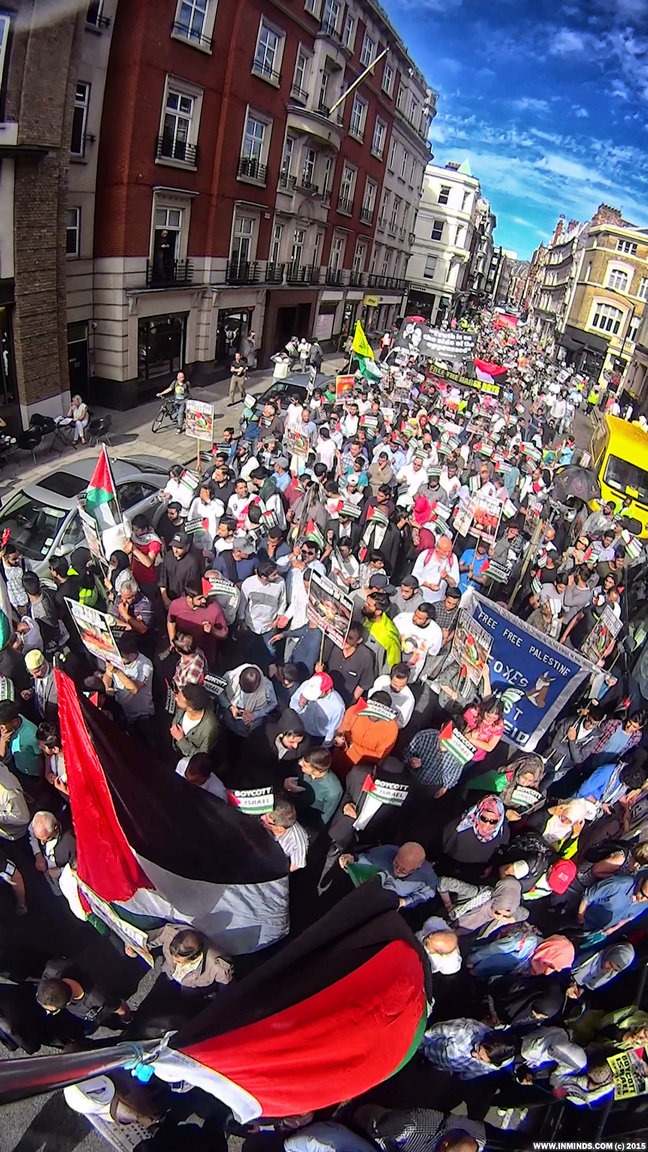 {jathumbnailoff}