Ilan Pappe, as posted on 13 June 2019 on Facebook
---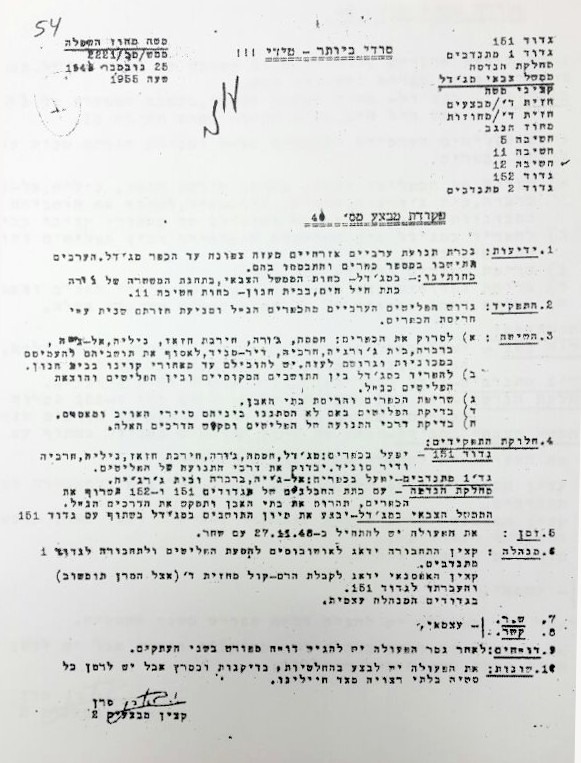 The ethnic cleansing of Palestine had two stages. The original expulsion and a secondary one, due to the fact that refugees returned. This document deals with the return of the refugees to the villages around the town of Majdal and in Majdal itself (today the Israeli town Ashkelon).

It is from 25 November 1948 (as we know the final deportation took place in 1950). But when we think about the great March on the fence of the Gaza Ghetto and the demand of return; do remember that this is the next generation of the people expelled from their homeland and promised by the UN to be protected from such war crimes.

"Your role is to expel the Arab refugees from these villages and prevent their return by destroying the villages". 

The method:

Surveying the villages: Kihasas, Jora, Khirbat Huza, Bilia, Al-Jiyyaa, Barbara, Beit Jorjya, Kharbiyyah, Dayr Sunayd;
gathering the inhabitants; uploading them on cars and expelling them to Gaza. They have to be removed beyond our lines in Beit Hanun.

Separating between refugees and locals in Majdal and remove the refugees.

Burning the villages and demolishing the stone houses."

The rest of the document specifies which unit will do what, demands, assertiveness from the troops and allocated buses and loudspeakers for the mission.

Needless to say, this document too is not the archive anymore.