IHRC has been empowering the community to know their rights since 1997. We have done this by distributing rights information leaflets and other literature, doing casework and delivering workshops up and down the country.
Find the latest leaflets regarding your rights in the UK on this page.
Know Your Rights: What to do if you are arrested or searched under anti-terror laws, or questioned by the security services
This deals with your rights if contacted by MI5, Special Branch or other parts of the security apparatus in the UK or if you are arrested or your premises are searched. Please keep this guide with you. Read it here, or download it here.
Know Your Rights: What to do if you are stopped at a UK port (Schedule 7)
Find out your rights is you are stopped under Schedule 7 of the Terrorism Act 2000 at a UK airport or any other port.
Read the details here. Download the leaflet here.
Watch the January 2021 webinar giving further detail and examples below [page continues after video].
Know Your Rights: Attending Protests
Find advice and information from IHRC and Green & Black Cross here. Make sure you keep his advice with you when you attend a protest.
Know Your Rights: Understanding Prevent
What to do if you or your child are contacted by a PREVENT officer or a police officer under these powers. Download the leaflet.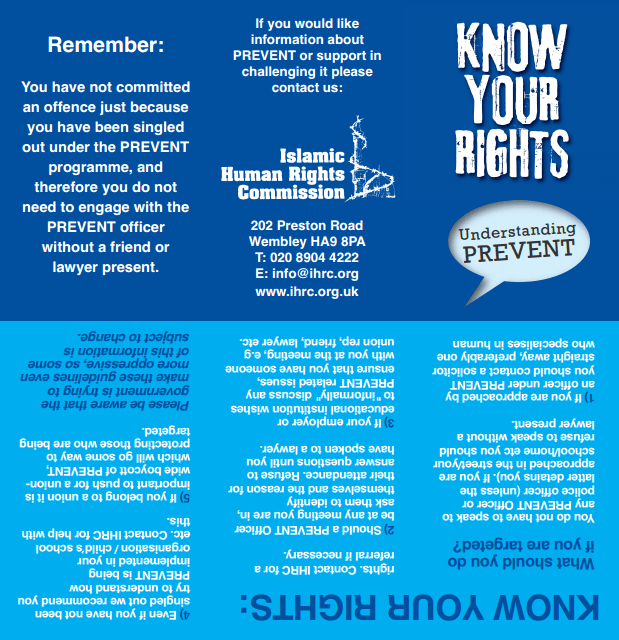 What to do if you see someone being stopped (Immigration checks)
In the face of increased raids and stops and checks in public places by police on people though to be illegal immigrants, IHRC is reposting advice from the Anti-Raids Network for all those affected or concerned about the stops.
Visit the page and download information here.