Join us at this demonstration against the racist, repressive bills the UK government is aiming to push through Parliament this year.
WHEN: Sunday, 27 February 2022, 12.30pm
WHERE: assemble at Home Office, SW1P 4DF – march to Parliament Square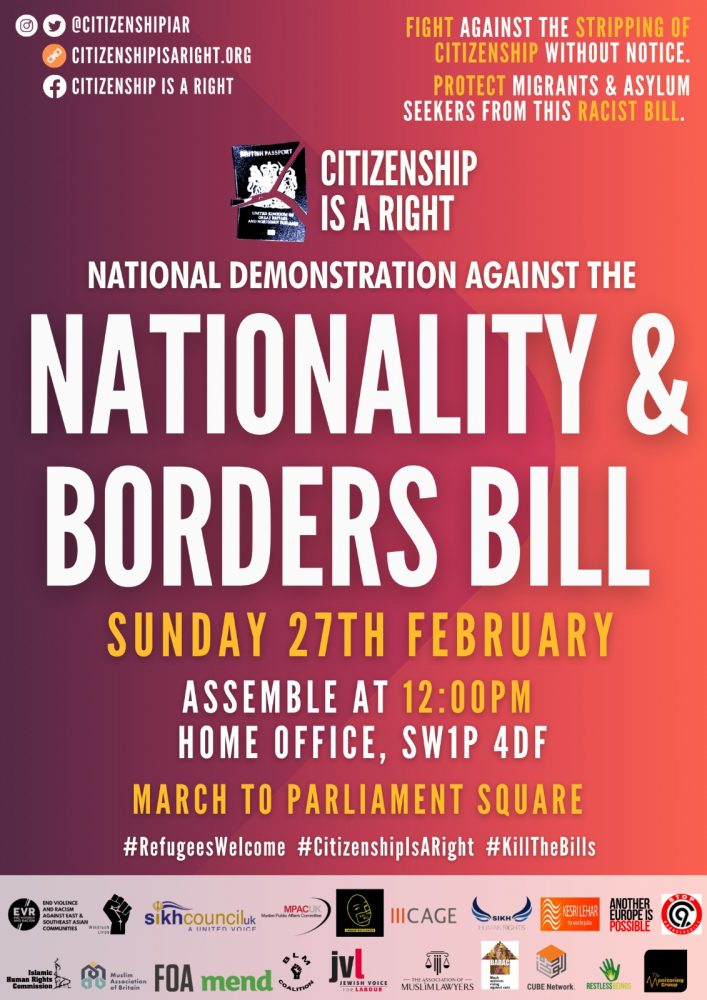 As Shami Chakrabarti has argued, Boris Johnson's Conservatives are following a classic far-right playbook, bringing in new police powers to crush dissent, rendering people whose ancestors came from other countries second class citizens and slipping through a range of other anti-democratic measures outlined below.
There is little sign of robust opposition from Keir Starmer's Labour Party.
But a grassroots movement is taking shape as a multitude of civil society organisations come together to challenge the threatened legislation in Parliament, to educate and mobilise communities and to mount public protests in the streets.
Jewish Voice for Labour has joined one such grouping, the Citizenship Is A Right coalition, which has called a national day of action on Sunday February 27, as advertised in the poster on top of this article.
We are also among a plethora of organisations backing the movement to "Kill the Bills." Go to ktbofficial.org for helpful campaigning tools and information.
March 12 has been earmarked by KTB and Sisters Uncut for further protest against both bills.
The Joint Council for the Welfare of Immigrants has issued a comprehensive briefing.
---
A raft of repressive laws
(Naomi Wimborne-Idrissi, with thanks to Moya Lothian-McLean and Nafeez Ahmed for reviews they produced in January.)
These bills reinforce attempts to undermine rights and liberties that are widely taken for granted in a liberal "free" society. Their full implications may not become visible immediately, or even under this Government. They should be seen in the context of others already on the statute books, such as the Covert Human Intelligence Sources Act, enacted in March 2021, anti-trade union legislation in force since the 1980s, and other ongoing threats such as the silencing of pro-Palestinian voices through imposition of the IHRA definition of antisemitism and the criminalisation of calls for BDS.
---
What is it?
Priti Patel's new attempt to stop immigration. An exceedingly nasty bill that seeks to criminalise asylum seekers based upon their means of arrival as well as threatening the citizenship rights of an estimated six million, maybe more.
The Citizenship Bill, as it has been dubbed, furnishes the Secretary of State with an excessive, ill-defined and unconstitutional power to make a deprivation order without notice and with fewer safeguards for those it targets. There is no test or clear definition for exercise of the proposed powers. The Home Secretary is judge, jury and executioner. The Home office recently lost a case at the Court of Appeal over nationality stripping.
If the law comes into force, it stands to have a disproportionate impact on those born overseas or who have a parent born abroad.
The Bill also targets migrants by giving Border Force officers powers to turn refugees away from the UK while at sea and makes it a criminal offence to knowingly arrive in the UK without permission.
The Bill has been condemned as in breach of human rights law. It creates punitive and inhumane barriers for those who rightly deserve asylum, leaving them at the mercy of human traffickers. All this serves to only further entrench an environment that is hostile to migrants and to those with migrant backgrounds.
What stage is it at?
It's at the committee stage at the House of Lords where some significant amendments have been put forward. But the Bill as a whole must be fought.
A vigil planned at Parliament on February 28 will coincide with important votes in the Lords .
There will be further vigils to mark two further steps in the process, on Wednesday March 2 and Tuesday March 8. The Bill will then return to MPs in the Commons.
What is it?
The target of "Kill the Bill" protests for many months now, it's widely described as the bill that will (effectively) ban protest.
Shami Chakrabarti, the barrister who served as director of the civil liberties and human rights advocacy group Liberty for 13 years, says it represents "the biggest step-change in many years in criminalising peaceful protest".
As well as allowing for increased police powers around protest and criminal consequences for those taking part in peaceful demonstrations, it will make "residing or intending to reside on land without the permission of the owner or occupier" a new criminal offence. This is an explicit attack on Gypsy, Roma and Traveller communities.
The provisions in the bill extend existing police powers to place restrictions on protests if they are likely to cause serious disruption to the life of a community, such as damaging property. Under the new plans, nuisance, noise and impact in general could suffice.
What stage is it at?
The Bill has been through its third reading in the House of Lords. MPs will be voting on the Lords' proposed amendments in the House of Commons on Monday February 28. The protest vigil planned for that day will target this step in the passage of the Bill.
These two Bills – PCSCB and NABB – have attracted the most vocal opposition from activists, but there are many more that also deserve scrutiny.
---
What is it?
A bill supposedly to ensure UK elections remain fair and secure. Others have called it "rigging the system".
It would introduce mandatory voter ID, supposedly to prevent election fraud (for context, only six documented cases of ballot fraud were found at the last general election). However, voter ID, as many have warned previously, will amount to voter suppression. It stands to disenfranchise millions, particularly minoritised groups.
What stage is it at?
Going through its second reading in the House of Lords.
---
What is it?
Legislation supposedly to tackle and tame the powers of Big Tech, like Twitter and Facebook. It contains parts that could genuinely help combat online harms, but there are also provisions that could pose a threat to certain speech freedoms.
The main aspect being contested focuses on a "duty of care" relating to "legal but harmful" content for adults. It would allow the culture secretary – currently culture war proponent Nadine Dorries – a central role in deciding what such content looked like and could shut down freedom of expression. Serious concerns have been raised that the government could add "harms" to an "open-ended list" including perfectly legal political opposition.
What stage is it at?
The bill has only been drafted at this stage. In December 2021, a Joint Committee responsible for scrutinising the proposals published a report recommending big changes that would address most of the major concerns.
It's due to be introduced to parliament at some point in 2022. Activists need to keep keep it under review.
---
What is it?
A bill sponsored by justice secretary Dominic Raab, supposedly to "reform" judicial review which is a challenge to the legality of decisions of public bodies, including courts, subjecting them to review by a judge. For example, judicial reviews are often employed to challenge the way the Home Office has made a decision on an asylum application and whether they followed the lawful procedure in doing so. If they did not, then they may be legally obliged to hear the case again. In cases related to immigration decisions by the Home Office, no other right to appeal exists.
The Bill focuses on complex legal processes, but essentially the aim seems to be to reduce the access people have to certain types of judicial review.
What stage is it at?
The Committee stage in the House of Lords.
---
What is it?
Justice secretary Dominic Raab says the proposed reform to the Human Rights Act will "deny spurious human rights claims". It would see the Act revised and replaced with a Bill of Rights. Its main aim seems to be to allow the government to pick and choose who has access to human rights, specifically to block deportation targets from successfully challenging attempts to remove them from the UK.
What stage is it at?
At this stage, these reforms are still "proposed" – there's an online public consultation open until 8 March 2022 which can be responded to. But it asks very specific legal questions, so is really for those with expertise in the area to tackle.
---
What is it?
A Government attempt to control research, teaching and debate at universities in the name of "free speech". Introducing it to Parliament in May 2021, then Education Secretary Gavin Williamson called it a "Landmark Bill" that would "require universities to promote freedom of speech on campus and legal duties will also be extended to students' unions".
Examples given of the kind of behaviour that it wants to police included protests at an event with the Israeli Ambassador in Bristol University, and opposition by academics to the work of a professor who had said that British people should have 'pride as well as shame' in the Empire.
What stage is it at?
Report stage in the House of Commons.
---
What is it?
This Bill threatens to place the national health service (NHS) increasingly in the hands of private interests while steadily dismantling it, at the same time as granting extraordinary powers to the executive. It is not only a power grab, but also a private data grab under the guise of 'data sharing'.
What stage is it at?
Report stage in the House of Lords.