Zakzaky's will spend their 5th Eid Ul Fitr in illegal detention. During this week his followers showed massive support for Palestine on Al-Quds Day.
You can find all the latest actions and information, as well as background to the campaign and information, videos and audio and details on the Sheikh on the Free Zakzaky campaign page.
Introduction
Action Alert
Articles
Videos
Archive
Introduction
This week we are continuing to ask people to write to the Commonwealth and demand their intervention in the case. During this week followers of El-Zakzaky showed massive support for Palestine on Al-Quds Day with street protests, #FlyTheFlag campaign and trending on Twitter in solidarity with the Palestinian struggle. Also during this week, an updated report by IHRC into the Zaria massacre in 2015 is being sent to the International Criminal Court. Find details of how to campaign below.
Please help support those injured by police brutality, and the families of those killed by the security services, by donating to the IHRC Trust Nigeria Fund here.
Above all, please remember all the oppressed in your prayers
#FreeZakzaky!
Action Alert
Click here to send an email to the Commonwealth and demand their intervention in this case. A model email and contact details of the Commonwealth are provided below. Please forward any responses you receive to IHRC at wajahat@ihrc.org.
Model email
If you are emailing, please use the following in the subject line:
Outrage over denial of amnesty for Zakzaky's amid Covid-19 crisis
Rt Hon Patricia Scotland QC
Commonwealth Secretariat
Marlborough House
Pall Mall
London
SW1Y 5HX
Re: Commonwealth's Failure To Save Innocent Lives amid Covid-19
Dear Baroness Scotland QC,
I am shocked to find that the Nigerian president's amnesty on 9 April to 2500 prisoners did not include Sheikh El-Zakzaky and his wife Muallima Zeenah and indeed other political and relevant prisoners.
Sheikh El-Zakzaky and Muallima Zeenah continue to be held in illegal detention despite a 2016 federal high court ruling that their detention is unlawful and unconstitutional. I am writing to you to urge the Nigerian government to release Sheikh Ibraheem el-Zakzaky and Muallima Zeenah immediately. Their continued illegal detention in Kaduna State prison poses a high risk to their health especially in the current Coronavirus climate.
This is a policy that needs to be implemented quickly in Nigeria not just for the Sheikh and his wife, who both have underlying health conditions, but for all prisoners wherever possible for the sake of justice in these cases but also the sake of Nigerian society as a whole.
[Your name]
Commonwealth's Contact Details:
Email: info@commonwealth.int
Tel: +44 (0) 20 7747 6500
Fax: +44 (0) 20 7930 0827
ARTICLES
Find all the articles selected this week on our website.  Here are a selected few.
New Report: Nigeria – UPDATE OF THE 2016 IHRC 'COMMUNICATION TO THE ICC PROSECUTOR'
22 May 2020
IHRC's latest communication with the International Criminal Court regarding the Zaria Massacres of 2015, entitled 'UPDATE OF THE 2016 IHRC 'COMMUNICATION TO THE ICC PROSECUTOR' PURSUANT TO ARTICLE 15 OF THE ROME STATUE OF THE INTERNATIONAL CRIMINAL COURT TO OPEN A PRELIMINARY INQUIRY INTO THE ATTACK AGAINST THE ISLAMIC MOVEMENT OF NIGERIA ON 12-14 DECEMBER 2015 IN ZARIA' by Caterina Aiena is now available. Download the new report here.
PRESS RELEASE NIGERIA – IHRC To Send Updated Report To International Criminal Court
21 May 2020
An updated report by IHRC into the massacre of over 1000 civilians by Nigerian armed forces in the city of Zaria in 2015 is being sent to the International Criminal Court.
The report follows what appears to be another year of inaction on the part of the ICC following the submission of a detailed report into the massacre in 2016 which requested that the international tribunal open an investigation into the horrific events of December 2015. Click here to read more.

#FlyTheFlag Of Palestine Campaign in Yola Nigeria
22 May 2020
#FlyTheFlag in solidarity to Palestine staged by Fulani (Nomadic tribe) in Yola, North Eastern Nigeria, to mark #QudsDays2020 and #FreeZakzaky, see pictures below.

#FlyTheFlag of Palestine campaign in Niger State of Nigeria
17 May 2020
#FlyTheFlag for the #Palestine staged today by the followers of Sheikh Ibraheem Zakzaky (H) in Niger State, North Central Nigeria. See pictures below.

Intl. Quds Day: A 9-Day Flag Fly, Streets Protests, Begin In Nigerian Cities As 2020 Qudus Day Comes With Changes Amid Covid-19 Pandemic
16 May 2020
Tens of thousands of pro-Zakzaky protesters in some Nigerian cities have began a 9-day flag fly, streets protests and twitter storm, with colourful pictures, in solidarity with evicted Palestinians.
As Islamic Movement in Nigeria announced the temporal suspension of nationwide international Qudus Day protests in the forthcoming last Friday of the month of Ramadan amid change of stuations due to covid-19 deadly disease, on Wednesday 13/5/2020, many cities have staged protests demanding an unconditional release of Sheikh Ibraheem Zakzaky, meanwhile, showed their solidarity with the oppressed people of Palestine from the Israeli usurpation. Click here for details. See pictures below.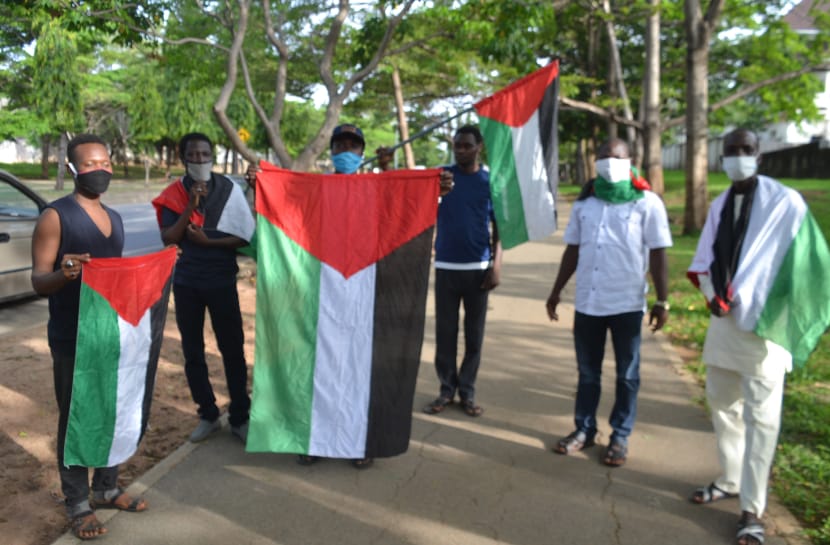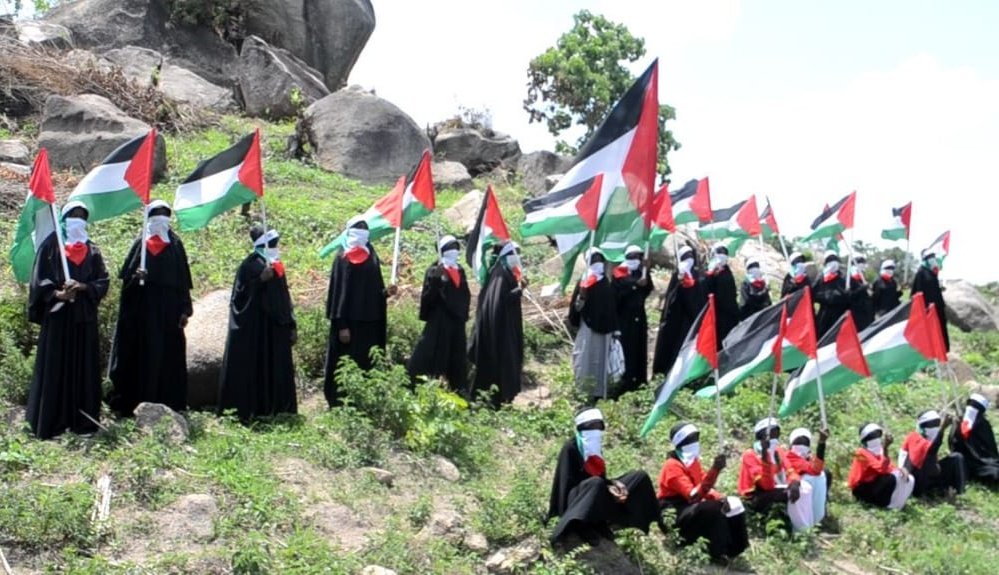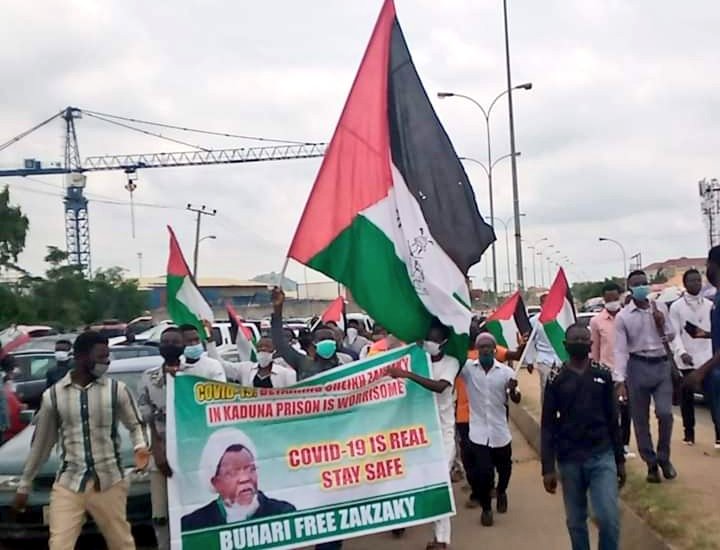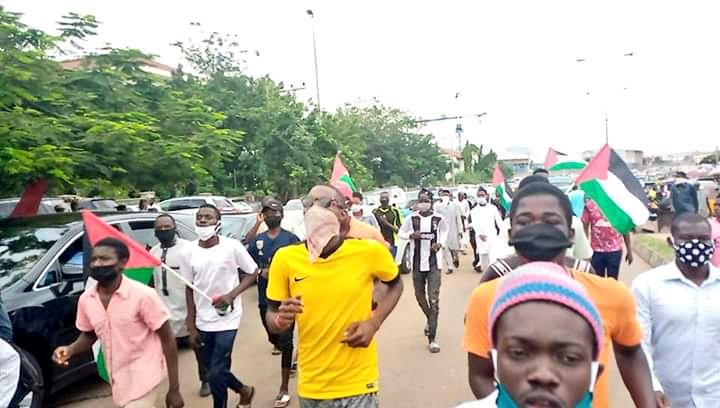 VIDEOS
Find more videos from recent weeks as well as the archives on the Free Zakzaky audio and video page.

Find a selection below.
ARCHIVE
Click here to read the Arzu Merali's blog on Sheikh Zakzaky "Zakzaky is not Thomas Becket; Buhari be warned" published on 22 February 2019.
Click hereto read the IHRC Press Release published on 02 July 1998 "Nigerian junta should release all political prisoners regardless of their faith"
Follow the IHRC #FreeZakzaky campaign for all the latest action alerts, press releases, reports, background, videos and more.

The Nigeria Digest is a weekly summary of the campaign to free all who are illegally detained focusing on the Islamic Movement of Nigeria.
The opinions expressed in this digest do not necessarily reflect the views of IHRC. Copyright © IHRC, All rights reserved.