From: Islamic Human Rights Commission
25 June 2020
Nigeria Digest #123 (Volume 3 issue 55) – Take Action and write to your country's Nigerian ambassador / High Commissioner and copy in the UN Working Group on Arbitrary Detention
Massive #FreeZakzaky protesters continued in Nigeria. Sheikh Zakzaky's 14 year old, murdered son Humaid was remembered on his birthday during this week. He was murdered in 2015 Zaria massacre, at the age of 14.
You can find all the latest actions and information, as well as background to the campaign and information, videos and audio and details on the Sheikh on the Free Zakzaky campaign page.
Introduction
Action Alert
Articles
Videos
Archive

Introduction

We are asking campaigners to write to their country's Nigerian ambassador / High Commissioner and demand immediate release of Sheikh Zakzaky and his wife. Massive #FreeZakzaky protests continued in the Nigeria. During this week Sheikh Zakzaky's murdered son Humaid was remembered on his birthday. He was born on 16 June 2001 and martyred on 15 December 2015 in the Zaria massacre. Please find details of how to campaign below.
Please help support those injured by police brutality, and the families of those killed by the security services, by donating to the IHRC Trust Nigeria Fund here.
Above all, please remember all the oppressed in your prayers
#FreeZakzaky!

Action Alert

IHRC are calling upon campaigners to write to their country's Nigerian ambassador / High Commissioner and copy in the UN Working Group on Arbitrary Detention demanding the Nigerian authorities order the release of political prisoners immediately. A model letter is provided.

Model email

Dear [Insert Ambassador / High Commissioner's name],

I am shocked to find that the Nigerian president's amnesty on 9 April to 2500 prisoners did not include Sheikh El-Zakzaky and Muallima Zeenah and indeed other political and relevant prisoners. The Sheikh and his wife are both aged over 60 and are suffering from severe health conditions.

Sheikh El-Zakzaky and Muallima Zeenah continue to be held in illegal detention despite a 2016 federal high court ruling their detention to be unlawful and unconstitutional. I am writing to you to urge your government to release Sheikh Ibraheem el-Zakzaky, his wife Muallima Zeenah and all relevant prisoners immediately. Their continued illegal detention in Kaduna State prison poses a high risk to their health especially in the current Coronavirus climate.

This is a policy that needs to be implemented quickly in Nigeria not just for the Sheikh and his wife, who both have underlying health conditions, but for all prisoners wherever possible for the sake of justice and also the sake of Nigerian society as a whole.
[Your name]

Recipient Addresses
Click on following link to find the name, address and contact details of the relevant diplomat in your country:
https://www.embassypages.com/nigeria
Selected names and email addresses of Ambassadors / High Commissioners can be found below. Please contact us info@ihrc.org if you have trouble finding the details of your country.
Please remember to also cc/ in Working Group on Arbitrary Detention, Office of the High Commissioner for Human Rights: wgad@ohchr.org
UK: Mr Olukunle A. Bamgbose, Acting High Commissioner, information@nigeriahc.org.uk, chancery@nigeriahc.org
France: Mr Hakeem O. Sulaiman , Ambassador, embassy@nigeriafrance.com

Malaysia: Nurudeen Muhammed , Chargé d'Affaires, info@nigeria.org.my/ nigeriankl@yahoo.com

Turkey: Mr Ahmed Abdulhamid, Ambassador, embassynigeriaturkey@gmail.com

Iran: Mr Hamzat Ibrahim, Ambassador, ngrembtehran@yahoo.com/info@nigeriaembassyiran.com

India: Mr Sola Enikanolaye , High Commisioner, nigeria.new-delhi@foreignaffairs.gov.ng
nhcnder@vsnl.in

Sweden: Mrs Jane Ada Ndem, Chargé d'Affaires a.i.info@nigerianembassy.nu
---
In the current circumstances we do not advise sending letters by post
ARTICLES
Find all the articles selected this week on our website. Here are a selected few.
IHRC – Watch live: The latest reporting and status on Sheikh Zakzaky and Mallima Zeenah
24 June 2020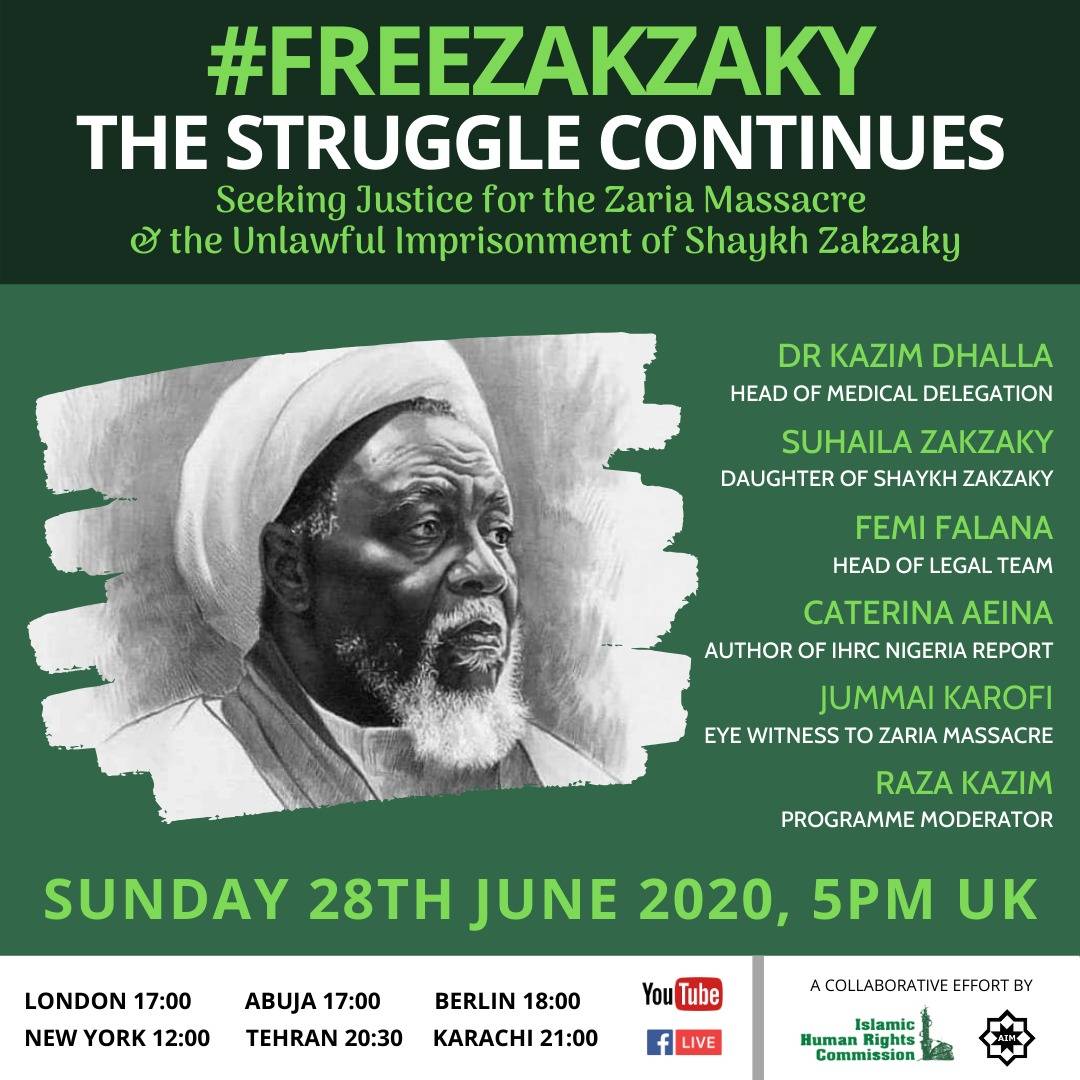 Watch live on Sunday 28th June at 5pm BST (GMT+1) on IHRC Tv or on the IHRC Facebook page. The Zaria Massacre took place in December 2015. Over a thousand were killed, and hundreds arrested. It is nearly 5 years and Sheikh Zakzaky and Mallima Zeenah remain imprisoned, the bodies of those killed remain in mass graves, and those responsible for the atrocity have not been held accountable.

#FreeZakzaky Protest in Abuja Nigeria
19 June 2020
Free Zakzaky Protest was staged in Abuja on Friday the 19th of June 2020. The protesters were calling for the release of Sheikh Zakzaky from illegal detention and condemned killings in northern Nigeria.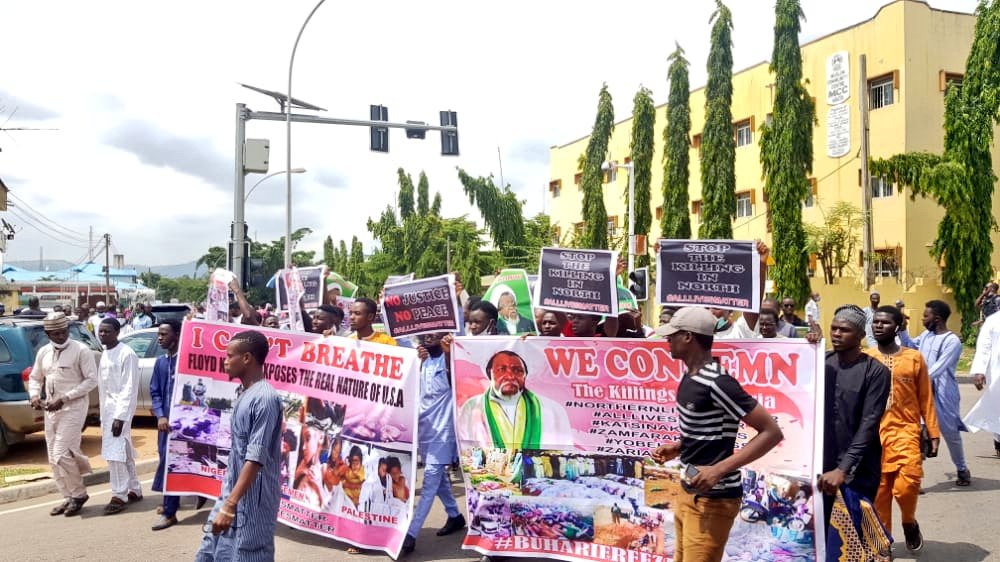 #FreeZakzaky Protesters Condemn Killings in North Nigeria
18 June 2020
Followers of Sheikh Ibraheem Zakzaky staged #FreeZakzaky rally in condemnation of the recent killings in Northern Nigeria #NorthernLivesMatters, and solidarity with #BlackLivesMatter After Juma'at Prayer at Nigerian Capital City, Abuja.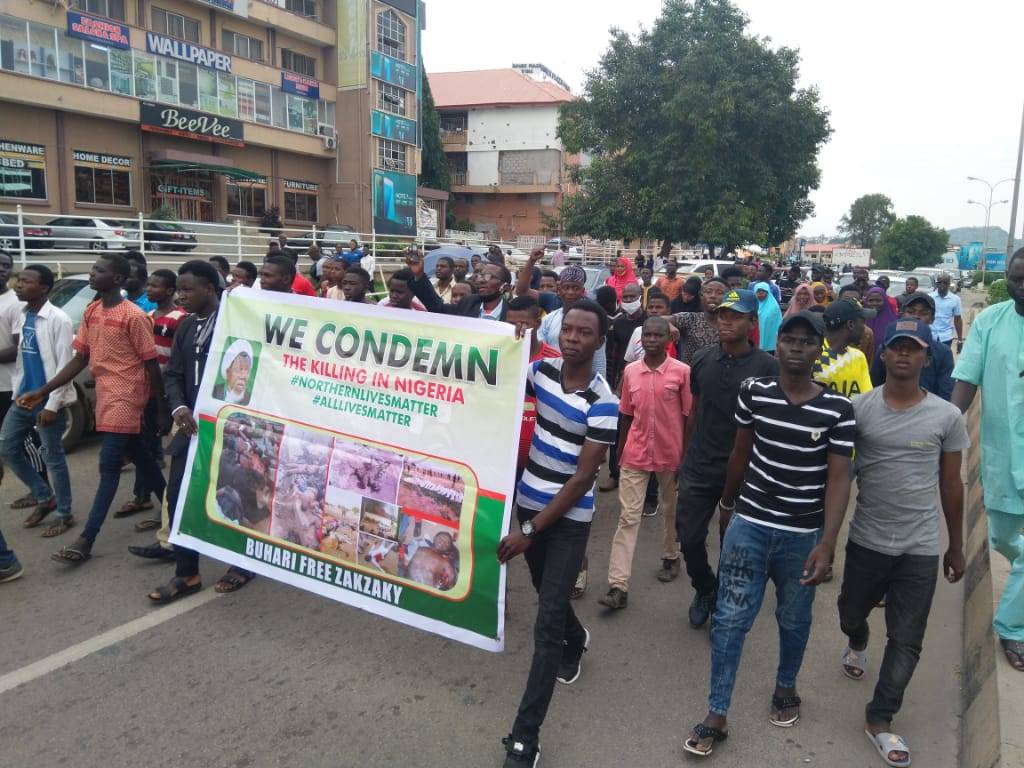 Martyr Hummaid Ibraheem Zakzaky, Remembered on His Birthday
16 June 2020
Hummaid Ibraheem Zakzaky is one of the sons of Sheikh Ibraheem Zakzaky and among dozens brutally killed by Nigerian Army in Zaria in December 2015. He was born on 16 June, 2001 equivalent to 24 Rabi'ul Awwal, 1422H in the city of Zaria, Kaduna state of Nigeria. He was the last born of Sheikh Zakzaky.
VIDEOS
Find more videos from recent weeks as well as the archives on the Free Zakzaky audio and video page.

Find a selection below.
ARCHIVE
Click here to read IHRC PRESS RELEASE – Nigeria: Evidence emerges of mass burials after Arbaeen massacre, published on 24 November 2016
Click here to read A Letter by IHRC Chair Massoud Shadjareh to President Buhari regarding possible attacks on Arbaeen processions in Nigeria, the letter was sent on 08 November 2016.
Follow the IHRC #FreeZakzaky campaign for all the latest action alerts, press releases, reports, background, videos and more.

The Nigeria Digest is a weekly summary of the campaign to free all who are illegally detained focusing on the Islamic Movement of Nigeria.