Islamic Human Rights Commission
NIGERIA DIGEST 11 August 2018 (Volume 2 Issue 34)
Introduction
Action Alert
Articles and Resources Digest
Videos Section
Archive Section
INTRODUCTION
Below please find an update on the continuous Free Zakzaky protests in Nigeria. During this week acting Nigerian President sacked Director General of DSS Lawal Daura and he is interogated over N17bn scam. He was known to mastermind various odious plots against Sheikh Zakzaky and in last meeting Sheikh told him "Go and tell whoever gave you my custody to go ahead and complete his contract, I thought you want to kill me, Therefore, go ahead and kill me".
We request campaigners to keep the pressure on the African Union by writing emails / letters, demanding the immediate release of the Sheikh and all those unjustly imprisoned.
Please forward any responses to any campaign letters/ emails you have sent to us and please keep the pressure up and send (follow up) letters / emails.  A model letter is provided below in the Action Alert.
To find out more about the Zaria massacre, read IHRC's submission to the International Criminal Court HERE
To find out how you can help further, please visit the IHRC FreeZakzaky campaign page HERE
Note: To enable images in this digest please click on "always show content from this sender" – on top of your email just under sender's address.
Free Zakzaky!
 
ACTION ALERT: Demand Urgent Intervention of the African Union
1. CLICK HERE to send an email to the African Union and demand they intervene in this case, a model letter / email is provided below
2. If you receive a response please forward it to IHRC at info@ihrc.org
Model email / letter
If you are emailing, please use the following in the subject line:
Save the Leader of Islamic Movement
African Union Chairperson
President Paul Kagame
Roosevelt Street (Old Airport Area), W21K19,
Addis Ababa, Ethiopia
Date:
Dear President Kagame,
Re: Sheikh Zakzaky
I write to demand that Sheikh Zakzaky and his wife Muallima Zeenah are immediately released as their life is in danger. Nigerian security forces are known for the brutal violence and we urge your office to take immediate action and save their lives.
According to credible reports the security forces are planning to use some covert ways to assassinate Sheikh Zakzaky. They have planned to use the pretense of bandits, kidnappers or Boko Haram to attack the convoy taking Sheikh Zakzaky and his wife to the court, hospital or to the place of their detention.
Sheikh Ibrahim El-Zakzaky and his wife were arraigned by the state High Court in Kaduna in the latest of a long line of blows inflicted on the sheikh designed to cripple the Islamic Movement of Nigeria which he leads.
On 02 December 2016 the Federal High Court in Abuja ruled that Sheikh Zakzaky and Muallimah Zeenah should be released within 45 days. The court described their detention, which began in December 2015 as illegal and unconstitutional. The deadline for the court order expired on 16 January 2017 but the Nigerian Government has refused to obey the court order. The Nigerian government has kept them detained illegally for over two years now and Sheikh Zakzaky and his wife still remain in the custody of the state, in clear contempt of the court order.
Current trumped up charges against him are part of a wider effort to cover up the gruesome crimes committed by members of the security forces in Zaria in December 2015 that left at least 1000 civilians dead.
The state's denial of medical treatment to Sheikh Zakzaky has led to a severe deterioration in his medical conditions and the recent attempt to move him forcefully will put his life in danger.
I am extremely concerned as Sheikh Zakzaky suffered a stroke in early January and his condition has been further aggravated due to the continued unlawful detention and denial of access to adequate medical treatment. He was shot by security forces more than two years ago, losing his left eye in the process and is currently at risk of losing the use of his other eye.
It is imperative that you apply pressure on the Nigerian authorities so that they stop killing innocent people and adhere to the High Court judgment of December 2016, and release Sheikh Zakzaky and his wife immediately.
I look forward to hearing from you,
Yours Sincerely,
[Your signature if posting]
[Your name]
African Union Contact Details:
Email: au-banjul@africa-union.org; DIC@african-union.org
Postal Address: P.O. Box 3243, Roosevelt Street, W21K19 | Addis Ababa, Ethiopia
Tel: (251) 11 551 77 00 | Fax:(251) 11 551 78 44
ARTICLES AND RESOURCES 
Free Zakzaky Rally at Abuja National Mosque
10 August 2018
Following are few pictures of Free Zakzkay rally at Abuja National Mosque on Friday the 10th of August 2018.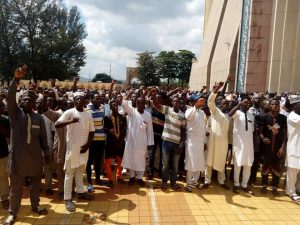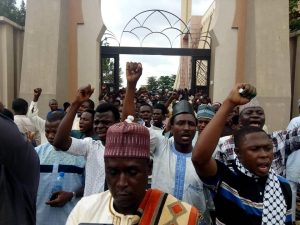 Nusaiba Ibraheem Zakzaky's Speech
10 August 2018
Click here to read the full transcript of Sayyida Nusaiba Ibraheem Zakzaky's lecture during the grand ceremony of unveiling Sheikh Zakzaky's office in Mashhad, Iran that took place on Monday 6th August, 2018.
I feel honoured to give this opening speech in front of distinguished dignitaries and honourable brothers and Sisters. May Allah reward you for sparing your time to grace this occasion of formal opening of the office of my father, Sheikh Ibraheem Zakzaky.
After the Zaria massacre of 2015, in which as you already know, more than a thousand innocent men, women and children were slaughtered in broad daylight, some sad occurrences happened whereby, wrong information is being circulated, to the extent that some even tried to change the movement's struggle to something other than what it is and twist the aim of the Islamic movement…
Free Zakzaky Peaceful Protest in Abuja on 9th of August
09 August 2018
A fresh Free Zakzkay protest was staged in Abuja on Thursday the 9th of August 2018.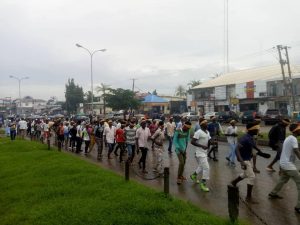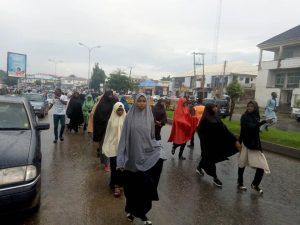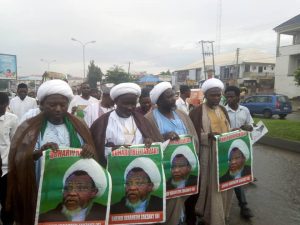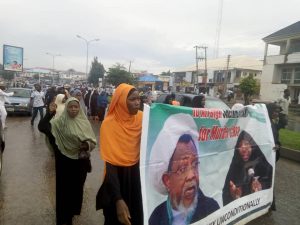 EFCC set to interrogate sacked DSS boss Daura over alleged N17bn scam
09 August 2018
The Economic and Financial Crimes Commission (EFCC) is preparing to interrogate the sacked Director General of the Directorate of State Services (DSS), Lawal Daura, over an alleged N17bn scam, a Daily Trust said.
The paper said it learnt on Wednesday that Daura, who was sacked by Acting President Yemi Osinbajo following the siege to the National Assembly by DSS operatives, is being interrogated by the police.
It quoted unnamed EFCC sources as disclosing that operatives of the anti-graft agency on Tuesday evening visited the police facility at Guzape Abuja where Daura was being held preparatory to receiving him.
"It is expected that the former DSS boss will be handed [to the EFCC] over by the police for further interrogation to explain how the N17 billion traced to the headquarters of the DSS was utilised," one of the sources at the anti-graft agency reportedly said.
Free Zakzkay protest in Abuja on 8th of August
08 August 2018
Pictures of fresh Free Zakzkay protest staged in Abuja on Wednesday the 8th of August 2018.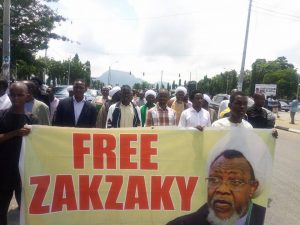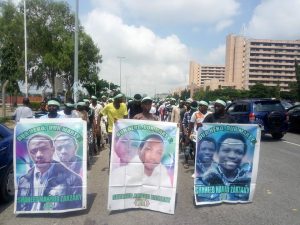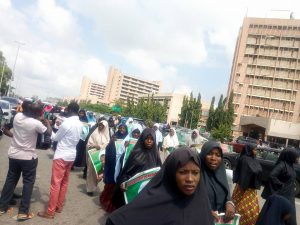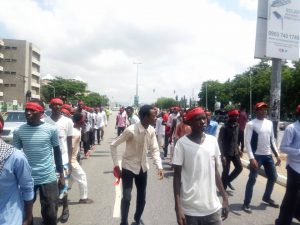 Free Zakzkay protest on 6th of August 2018 in Abuja
06 August 2018
A fresh Free Zakzkay protest was staged in Abuja on Monday the 6th of August 2018.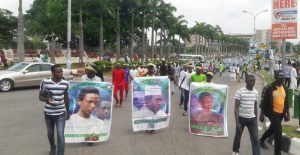 Youth Forum of the Islamic Movement organized Birthday celebration of Jesus (A.S)
05 August 2018
Youth forum of the Islamic Movement in Nigeria under the Leadership of Shaikh Ibraheem Zakzaky Kudan local government of Kaduna State chapter organized an annual birthday celebration of Prophet Isah (PBUH).
The annual occasion held at Fudiyyah School in Dokar Tagwai. After the opening prayer, recitation of holy Qur'an, welcoming address by one of the youths representative, Poet of the movement sang peaceful songs on Prophet Isah and the means to build peaceful co-existance among the two faiths.
Many Christians were in attendance during the program. Brother Murtadha, the youth head of Kudan expressed that: Prophet Isah is among the hundreds prophet of almighty Allah send to mankind.
VIDEOS SECTION
Attack on The Islamic Movement in Nigeria 
Click on following link to Watch an interview of the Chairman of IHRC Massoud Shadjareh of 07 October 2017 about the attack on Islamic Movement in Nigeria
https://www.youtube.com/watch?v=ojk8sXxV5J0&feature=youtu.be
A Message On Nigeria From IHRC Chair
Please Click on following link to watch and share Chairman of IHRC, Massoud Shadjareh's video of 20 July on the plight of Sheikh. Please email us on wajahat@ihrc.org if you want a WhatsApp version.
ARCHIVE SECTION
CLICK HERE to read the Nigeria Report: The Zaria Massacres And The Role Of The Military
CLICK HERE to read The IHRC's UPR Report on Nigeria
——————————————————————————————
IHRC is an NGO in Special Consultative Status with the Economic and Social Council of the United Nations.
Islamic Human Rights Commission
PO Box 598
Wembley
HA9 7XH
United Kingdom
Telephone (+44) 20 8904 4222
Email: info@ihrc.org
Web: www.ihrc.org
Twitter @ihrc
The opinions expressed in this email do not necessarily reflect the views of IHRC