Islamic Human Rights Commission
NIGERIA DIGEST 20 MAY 2019 (Volume 3 Issue 16)
Introduction
Action Alert
Articles
Videos
Archive
INTRODUCTION
#FreeZakzaky protests continued this week as once again Nigerian Army opened fire on peaceful protesters. During this week IHRC submitted a report to UN highlighting systematic state abuse in the authorities' treatment of the country's Islamic Movement.
Click here to watch the weekly message from IHRC chair Masoud Shadjerah about our fundraising and campaigning for the Islamic Movement of Nigeria. Please donate to support the victims of violence here.
We request campaigners keep the pressure on the Commonwealth by writing emails/letters, demanding the immediate release of the Sheikh and all those unjustly imprisoned. Please forward any responses you receive to us on wajahat@ihrc.org and keep the pressure up by continuing to send follow-ups. A model letter is provided below in the Action Alert.
To find out more about the Zaria massacre of 2015, read IHRC's submission to the International Criminal Court here
To find out how you can help further, please visit the IHRC FreeZakzaky campaign page here
Free Zakzaky!
ACTION ALERT:
1. Click here to learn the five things you can do to support the Islamic Movement of Nigeria. You can donate to support the medical expenses of those recently injured by clicking here.
2. Please send an email to the Commonwealth and demand their intervention in this case. A model letter and contact details of the Commonwealth are provided below. Please forward any responses you receive to IHRC at wajahat@ihrc.org.
Model email / letter
If you are emailing, please use the following in the subject line:
Commonwealth's failure to act on human rights abuses in Nigeria
Your name
Your address
Date
Rt Hon Patricia Scotland QC
Commonwealth Secretariat
Marlborough House
Pall Mall
London
SW1Y 5HX
Dear Baroness Scotland QC,
Re: Commonwealth's failure to act on human rights abuses in Nigeria
Nigeria has been the subject of repeated complaints over its killings of supporters of the Islamic Movement of Nigeria from 2015 onwards and the arrest and prosecution of its leader Sheikh Ibrahim el-Zakzaky, his wife Zeenah and other members.
In stark contrast to the Commonwealth Secretariat's robust stand during the tenure of President Abacha years, very little if anything has been said about this issue from your office.

Nigerian authorities are currently trying Sheikh Zakzaky and his wife along with two other members of the Islamic Movement on trumped up charges relating to events surrounding the massacre in December 2015 by the Nigerian military of over 1000 followers of the Islamic Movement of Nigeria. This case has only been made after the federal court ruled in late 2016 (a year after their detention) that Sheikh Zakzaky's detention and that of his wife Zeenah was unlawful and unconstitutional and ordered the government to release them by January 16, 2017 and pay compensation. That order was never implemented and the charges were brought against the couple in 2018.
It is imperative that you apply pressure on the Nigerian authorities so that they stop killing innocent people and adhere to the High Court judgement of December 2016, and release Sheikh Zakzaky and his wife immediately.
I look forward to hearing from you,
Yours sincerely,
[Name]
Commonwealth Contact Details:
Email: info@commonwealth.int
Postal Address: Marlborough House, Pall Mall, London SW1Y 5HX, United Kingdom
Tel: +44 (0) 20 7747 6500
Fax: +44 (0) 20 7930 0827
ARTICLES AND RESOURCES
IHRC PRESS RELEASE – NIGERIA: Shots fired at Zaria protest, 5 injured
18 May 2019
The Nigerian Army and Police have reportedly fired live ammunition at a Free Zakzaky protest in Zaria late last night. Reports state at least 5 people have been injured.
Kaduna Again Comes Out Strongly For Free Zakzaky
16 May 2019
Against all odds, adherents of the Islamic Movement in Nigeria who reside in Kaduna came out to strongly demand for the immediate and unconditional release of the leader of the Islamic Movement, Sheikh Ibraheem Zakzaky.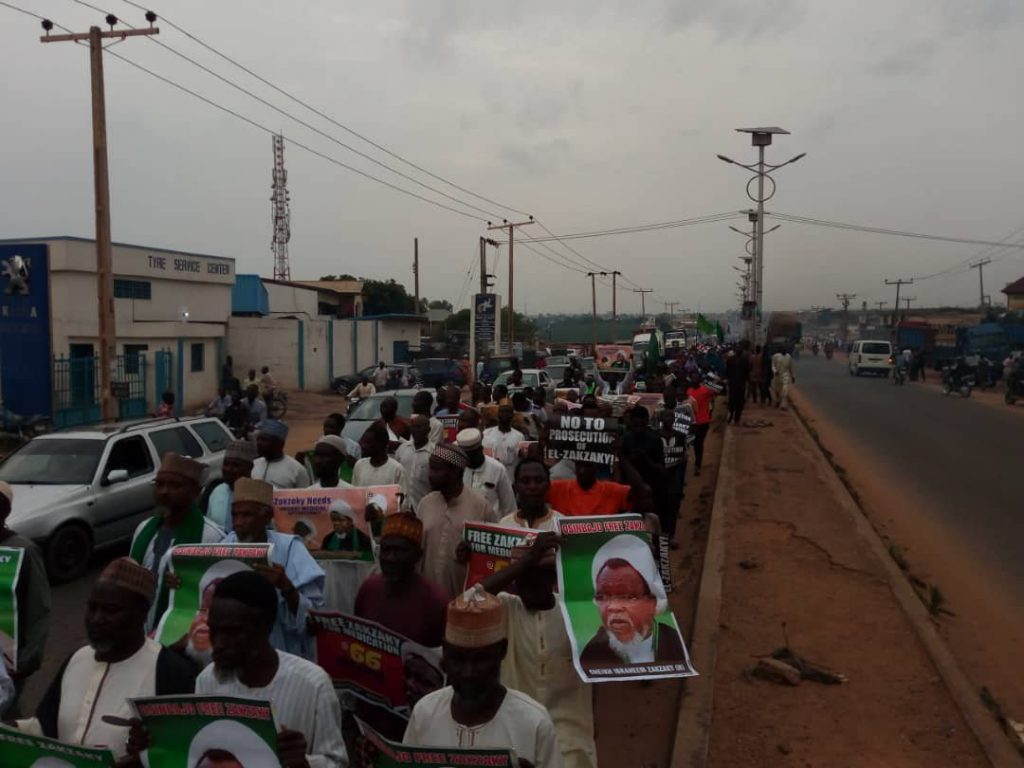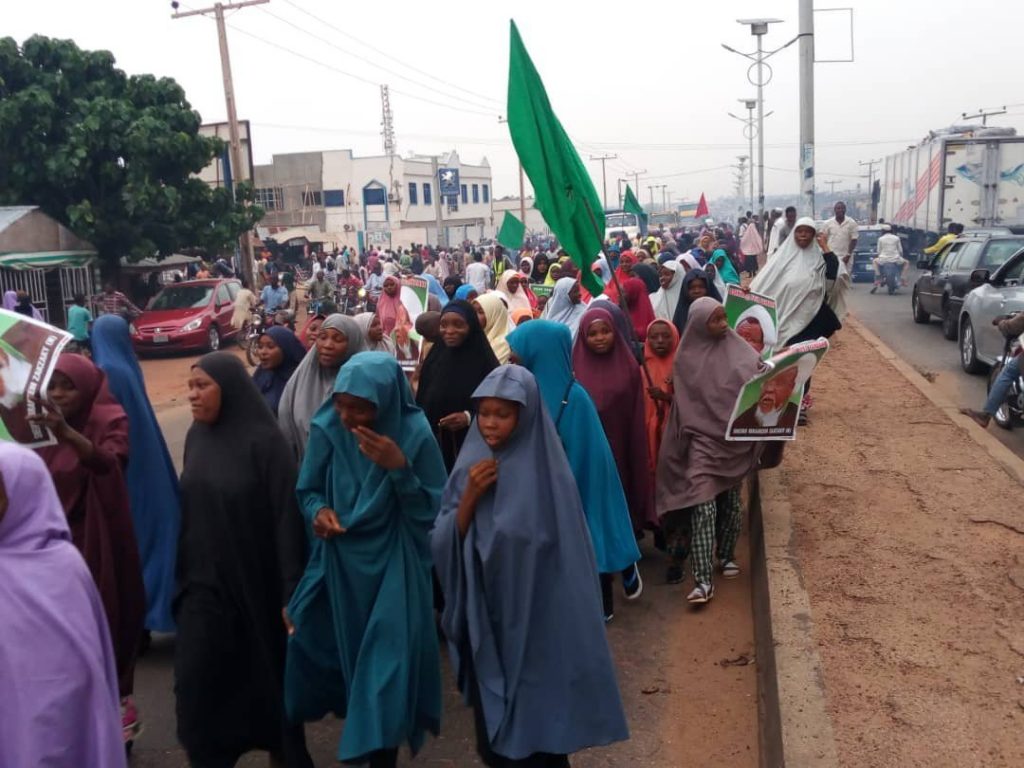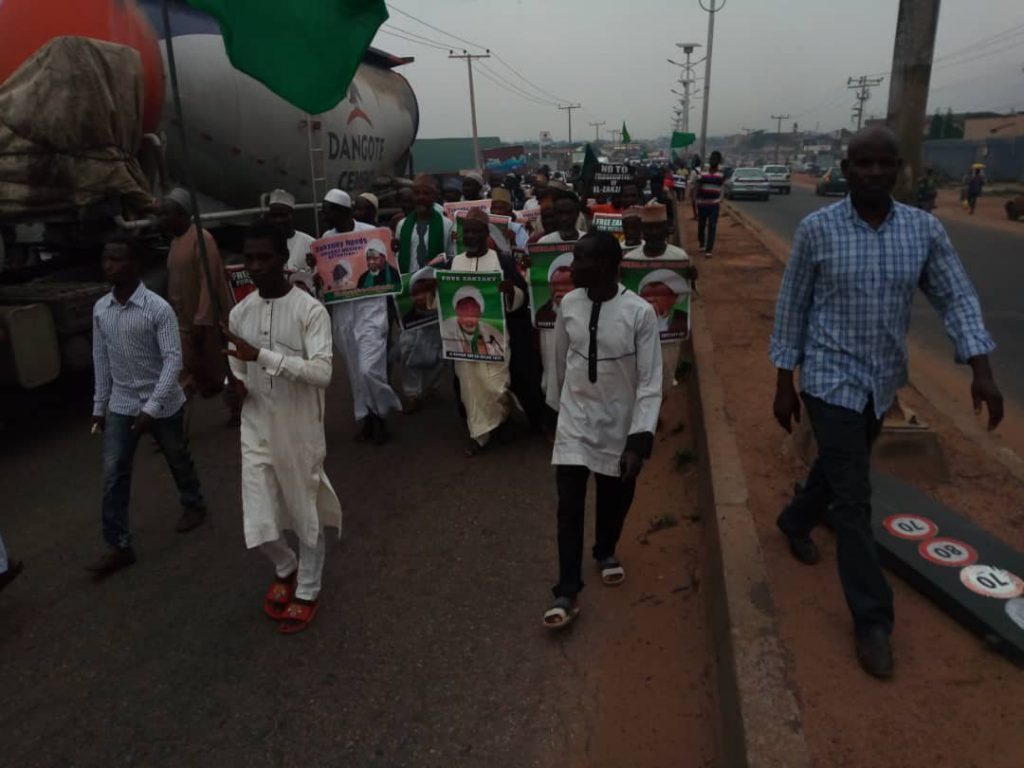 Sheikh Zakzaky's Case: President Buhari Goes For Further Instructions Under Umrah Pretence
15 May 2019
President Muhammadu Buhari is reportedly going to Saudi Arabia for further instructions over what further to do with what they term the "knotty" issue of the leader of the Islamic Movement in Nigeria, Sheikh Ibraheem Zakzaky. However, he is going under the pretense of accepting the invitation of King Salman Bin Abdulaziz, the ruler of Saudi Arabia to perform the Umrah (lesser pilgrimage) in the Kingdom.
Saudi Crown Prince had in April last year caused a stir when he divulged that his country was responsible for the heinous Zaria massacre and the continuing plight of Sheikh Zakzaky during a visit to the USA. Click here to read the full story.
Free Zakzaky Protest in Abuja despite fasting
14 May 2019
Fresh Free Zakzaky protest staged in Abuja on Tuesday the 14th of May 2019.The protesters says who they will continue with their daily protest and vowed never to leave Abuja until the leader is released unconditionally
Shaikh Zakzaky has been in detention since Dec 2015 after his children and over one thousands followers were killed in Zaria.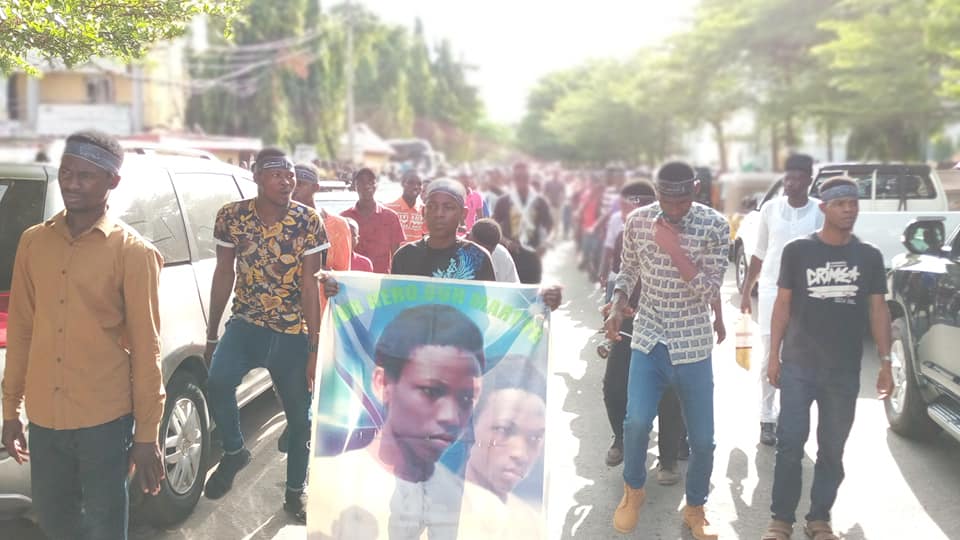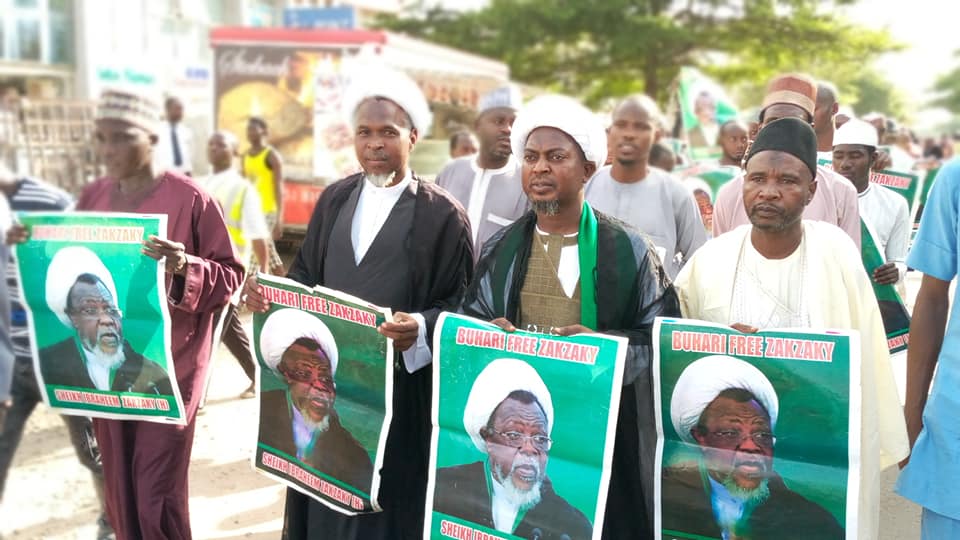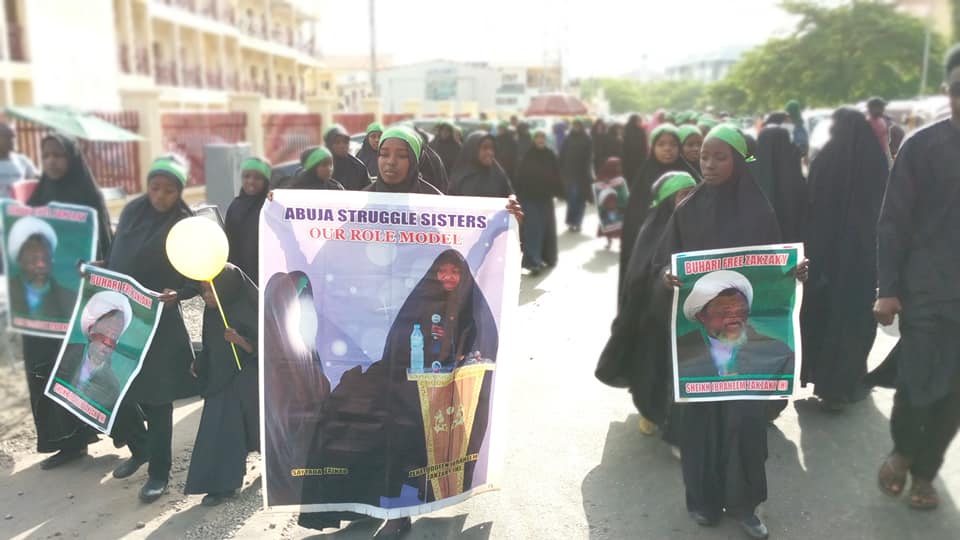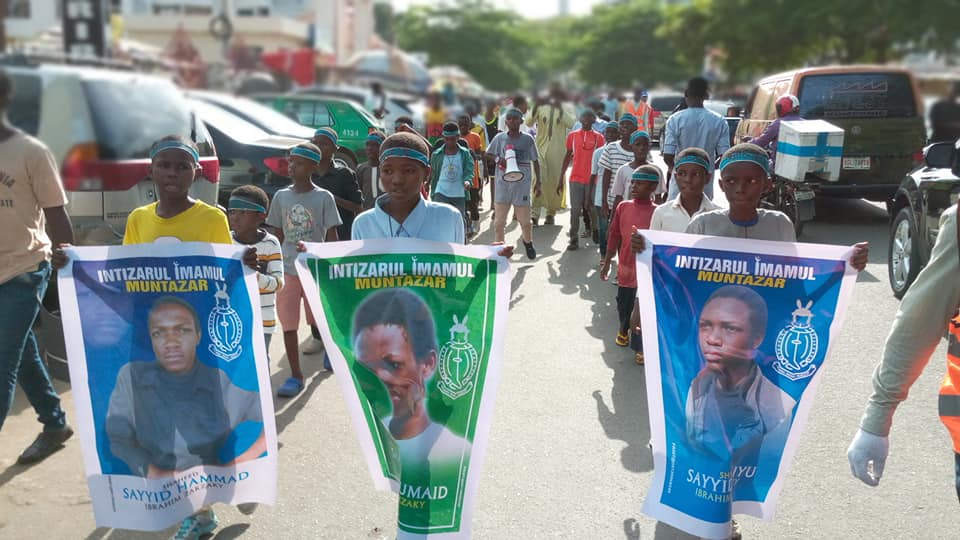 IHRC drafts report for UN on Nigeria rights abuses
13 May 2019
IHRC has submitted a report to the United Nations higlighting systematic state abuse in the authorities' treatment of the country's Islamic Movement.
The report has been written for the upcoming review by the UN's Human Rights Committee of Nigeria's compliance with the International Covenant on Civil and Political Rights.
IHRC's report focuses on the persecution of the Islamic Movement of Nigeria and its leaders and supporters since 2014, a period which has seen two massacres and routine killings, torture and detention without trial amongst other abuses.
Several key rights in the ICCPR have been breached by the state, among them freedom of assembly, the right to a fair trial, freedom of religion and the right to life itself. Click here to read the full press release.
#FreeZakzaky Protesters Stormed Abuja Again
13 May 2019
Thousands of free Zakzaky protesters marched in Abuja on Monday the 13th of May 2019 demanding the unconditional release of their leader and his wife. The protest kicked up from Catches Garden in Wuse Market, Abuja.
The protesters carrying placards with different inscriptions on them, called on the Nigerian Government to release the Sheikh and his wife unconditionally to have access to proper medical service abroad. They were chanting 'Free Zakzaky, No to Injustice and We demand Justice.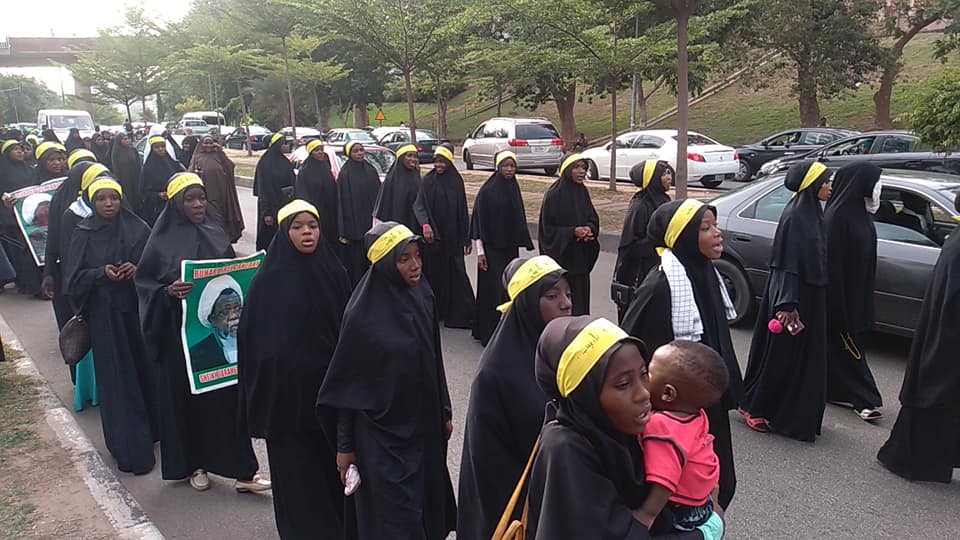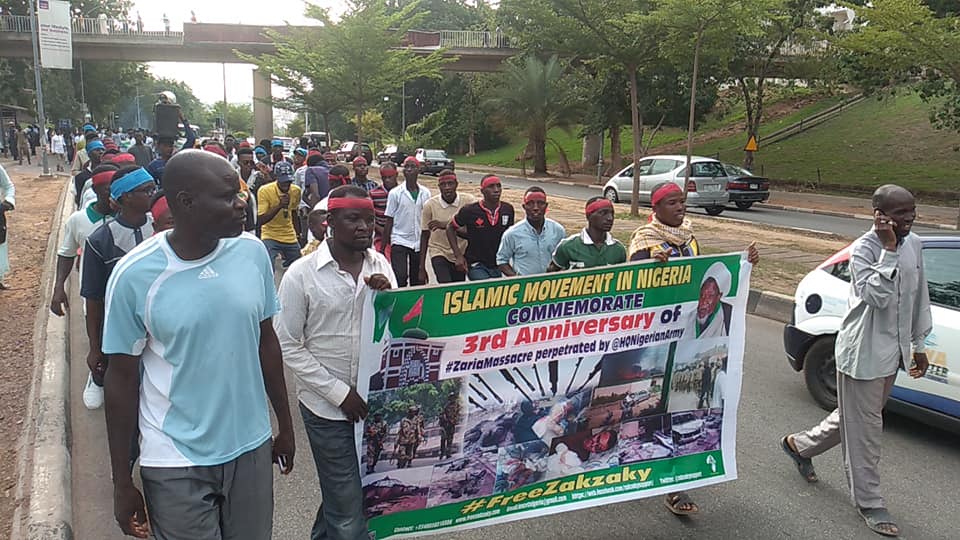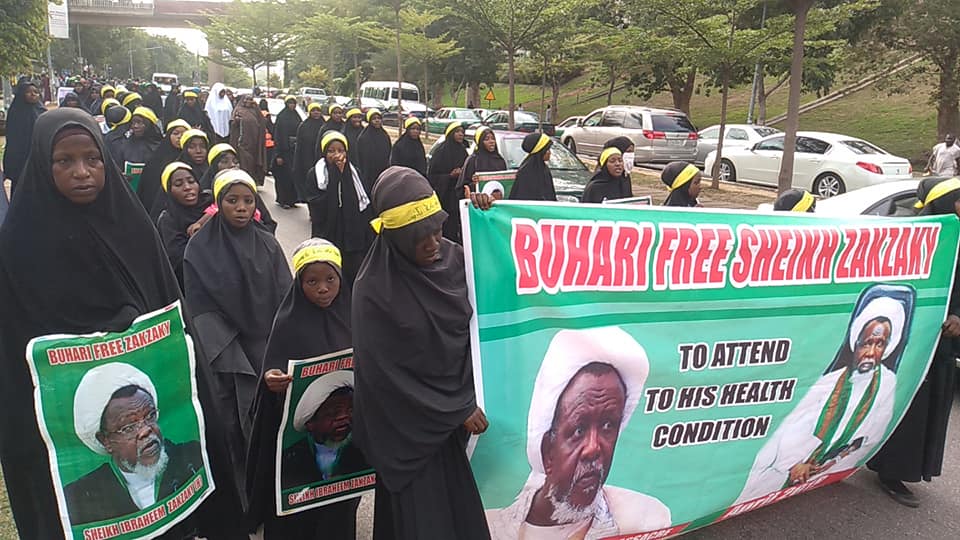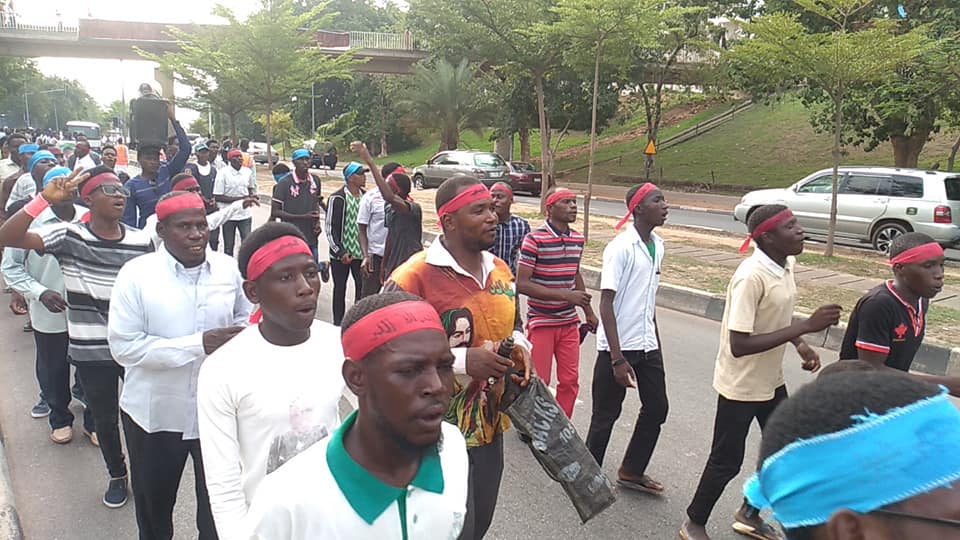 VIDEOS
Appeal to Help Recent Nigeria Massacre Victims
Published on 01 November 2018 – IHRC Weekly
The Nigerian authorities have attacked the Islamic Movement of Nigeria leaving dozens dead. They need your help now.
Nigeria: The Zaria Massacres and the Role of the Military
Published on 19 October 2014
Click on the following link to watch the IHRC Side Panel at UN Human Rights Council, 18 September 2014
ARCHIVE
CLICK HERE to read the Statement from Nusaibah El Zakzaky: We are not the Shia Movement of Nigeria; we are the Islamic Movement of Nigeria, published on 21 December 2015
CLICK HERE to read Arzu Merali's blog "The Unbearable Shianess of Mu'allim Ibraheem El-Zakzaky" published on 21 December 2017.
——————————————————————————
IHRC is an NGO in Special Consultative Status with the Economic and Social Council of the United Nations.
Islamic Human Rights Commission
PO Box 598
Wembley
HA9 7XH
United Kingdom
Telephone (+44) 20 8904 4222
Email: info@ihrc.org
Web: www.ihrc.org
Twitter @ihrc
The opinions expressed in this digest do not necessarily reflect the views of IHRC