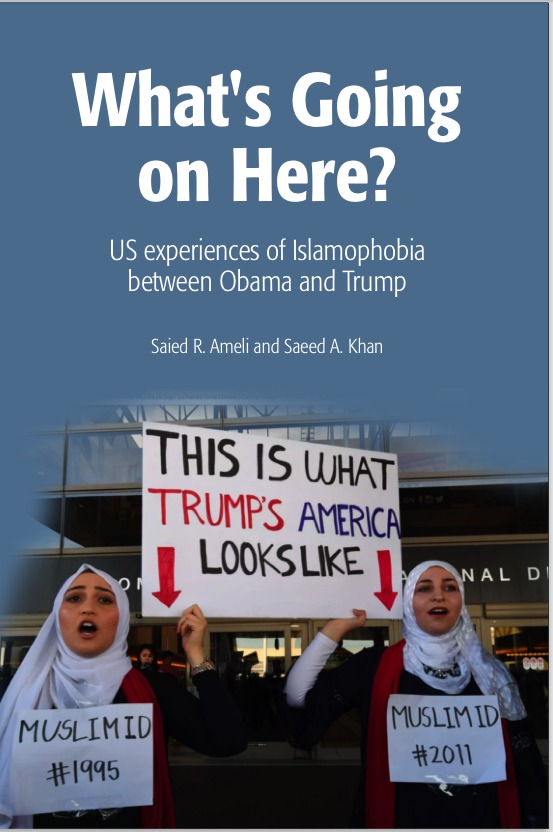 IHRC's follow up research on the experiences of Muslims in the US will be published soon. To pre-order visit the IHRC Bookshop & Gallery page here. For trade orders please email shop[AT]ihrc.org.
---
Saied R. Ameli is joined by Saeed A. Khan to overview and analyse Islamophobia and the experiences of Muslims in the USA. Using Ameli's Domination Hate Model of Intercultural Relations (DHMIR) the authors look at developments from the end of the Obama regime to the current Trump administration setting them within the long view of the establishment of the USA.
Following on from the survey findings in California in 2011-12, this book utilises original survey material from Chicagoland in 2014-15.
For a review copy please email info[AT]ihrc.org.
More information to follow.
Size 233mm (h) x 157 (w)
Paperback £20
Digital download (PDF) £9
Publication date: TBC, expected June 2020
Publisher: Islamic Human Rights Commission
About the authors
Saied R. Ameli is professor of communications at the University of Tehran . He is currently a member of Department of Communications and the director of the UNESCO Chair on Cyberspace and Culture, and Cyberspace Policy Research Center,[2] Faculty of World Studies at the University of Tehran.
Saeed A. Khan is is Senior Lecturer Near East & Asian and Global Studies at Wayne State University, as well as Research Fellow at its Center for the Study of Citizenship and Honorary Fellow at Australian Catholic University. He is also Cofounder and Senior Fellow at the Institute for Social Policy & Understanding. He is a regular panelist on the Canadian Broadcasting Corporation's Turning Point, as well as a regular contributor to news outlets like the BBC, Veja, Quartz and Time Magazine.