{jathumbnailoff}
[IHRC, 14 December 2011] The family of two political prisoners in Saudi Arabia have been brutally assaulted by prison authorities last week at al-Hayer prison in the capital Riyadh, resulting in serious injuries.
Faris Aal-Shuwayl al-Zahrani and his brother Muhammad have been imprisoned without charge or trial since August 2004. Last week, their mother Azzah, aged 51, and eight other family members, including some of the prisoners' children, travelled at great expense over 1000km from the al-Baha region in the south of the country to visit them at al-Hayir prison in Riyadh last Tuesday, 6 December 2011, which coincided with the Islamic religious occasion of Ashura. The family had an appointment to visit the two brothers and to meet with prison officials to review their case at 2:00 pm.
While permitted to meet their imprisoned sons, the family were dealt with harshly and rudely by prison officials and were denied meeting promised to them. The family members refused to leave before meeting the officials as scheduled, which resulted in the entire family (the nine visitors and two imprisoned sons) being locked in the visiting room and assaulted by group of armed riot-police style masked men and women. The armed attack force proceeded to attack the family and beat them up by means of punches, kicks and strikes with fire extinguishers. The prisoners' mother, Azzah, lost consciousness during the beating and sustained injuries to her head, nose and her arm was broken in the process. As a result of this, she spent over 24 hours in the intensive care unit of al-Shumaisi Hospital, where doctors were forced to carry out the operation to fix her arm while she was fully awake, as the sedative was assessed to be dangerous to her heart condition. The family were not transported to a hospital by prison officials, but rather thrown out on the street, which forced the family to make their own way to al-Shumaisi Hospital for Azzah to be treated. Faris sustained injuries to his foot and Muhammad to his hand. The family have expressed fear that the two imprisoned sons will be tortured in 'revenge' for the incident.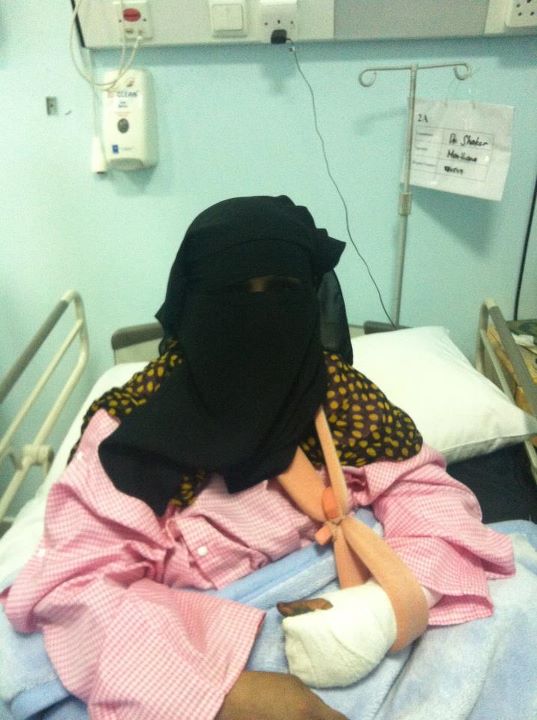 Azzah reports that a person who presented himself as the deputy manager of the prison had directed a threat toward her son in her presence that he would have him killed and she reported that this incident was being filmed by a prison guard holding a film camera. She found both her sons in horrendous conditions, both of them being dragged away by prison guards after the attack, and Faris bleeding and leaving bloodstains in the corridor as he was being dragged. She also points to the torture techniques practiced against her sons, which includes forcing them to stand for prolonged periods of time, dousing them in freezing water, not providing adequate clothing in the winter or appropriate meals, as well as the intentionally degrading tactics used against visitors, such as 'body searches' during which female visitors are touched in inappropriate areas of their bodies.
A video interview with Azzah al-Zahrani at al-Shumaisi Hospital has since surfaced, and is available here.
Political prisoners in Saudi Arabia are regularly denied a fair and just trial and in many cases are imprisoned for many years with no charges directed against them. They are routinely subjected to systematic mental and physical torture and their families are made to suffer in various ways, including denying them the right to visit or make phone calls to their imprisoned family members, denying them recourse to legal representation and persecuting legal offices and rights groups that campaign for the families of prisoners.
To read more on the situation of political imprisonment in Saudi Arabia, please refer to the IHRC briefing, 'Saudi Arabia's Political Prisoners: Towards a Third Decade of Silence':