Please find here, details of our live event, and more suggested reading. In order to discuss and contextualise current events in the USA, IHRC is holding a webinar The event will livestream at 6pm BST (more details below) on www.ihrc.tv, as well as on IHRC's Facebook page and IHRCTv on Youtube.
Entitled Unravelling Systemic Racism in the USA, the discussion will be moderated by Raza Kazim with guests, Imam Dawud Walid, Professor Mohammed Marandi and Professor Ramon Grosfoguel.[page continues after image]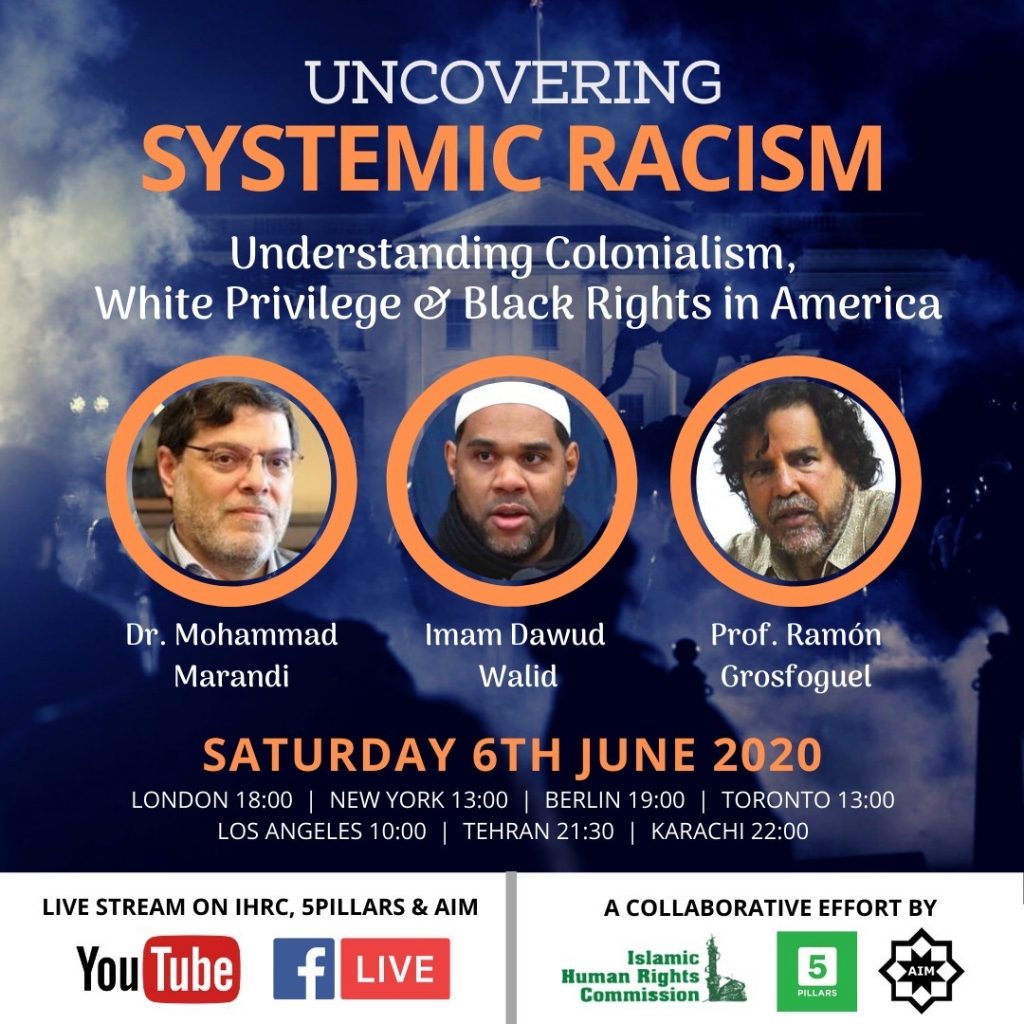 The compilation of papers from the 2018 IHRC conference, The New Colonialism: The American Model of Human Rights is available as a paperback or PDF from the IHRC Bookshop. You can watch the videos of the event below. We highly recommend Saeed A. Khan, Mary K. Ryan, Ramon Grosfoguel and Sandew Hira's presentations with reference to current events. [page continues after video playlist]
Reading
We recommend Michelle Alexander's 'The Injustice of This Moment Is Not an 'Aberration'' written in January this year in The New York Times.
We also recommend the following books from the shop.
ANNOTATIONS ON RACE, COLONIALISM, ISLAMOPHOBIA, ISLAM AND PALESTINE by HATEM BAZIAN
Imam Zaid Shakir reviews the book as "a wide-ranging examination of many of the issues connected to what Dr. Martin Luther King, Jr. described as the evil triplets racism, Militarism and poverty. Dr. Bazian engages in a masterful study of these themes in both an American and international context focusing on the underlying structures facilitating their existence and entrenchment. This work is essential reading for anyone seeking to move beyond the headlines and to understand the Underlying realities shaping some of the most pertinent and vexing issues of our day."
Essential Readings Pack: The Americas Pt 1
This pack covers includes a book and essays on the issues of the enslavement of African Muslims, the USA as an extraordinary Empire, the predicted decline of America, the current economic crisis. Additionally, we have short pamphlet from Malcolm X, entitled 'Why I am not an American'.
Bought separately, these items would cost £26.99 but can be bought as a pack for £19.
The titles in the pack are:
Servants of Allah: African Muslims Enslaved in the Americas by Sylviane. A. Diouf
Empire and the Dream-work of America by Vinay Lal
After the Empire: America in Decline by Emmanuel Todd
USA: The Crumbling of Empire by Frederic F. Clairmont
Why I am not an American by Malcolm X
As always please send us your feedback to shop[AT]ihrc.org.
With prayers and peace,
IHRC Bookshop & Gallery