Arzu Erbaş Çakmakçı, who had received awards and been received by the Dutch royal family for her charity work, was stabbed to death in Amsterdam on Monday in the parking lot outside of a daycare center she owned.
News reports said the attack took place in the evening after the 33-year-old has just locked up the Moeders Schoot childcare center in the Geuzenveld district of the city and was walking to her car.
Çakmakçı was taken to a hospital; however, she later succumbed to her injuries. She was married with two children. There is no trace of the stabber, Dutch police were quoted as saying on Wednesday by an English-language online Dutch news portal, while there was no statement from the police concerning the motive for the attack.
Amsterdam police, meanwhile, assigned a 30-member team to investigate the murder and have started full-time protection of the daycare center, located in a neighborhood with a large immigrant population.
 
"Parents who brought their children to the daycare center on Tuesday morning were shocked to learn about the killing. They told the media that the victim was 'a very kind woman, like a mother to everybody'," DutchNews.nl reported.
Hakkı Çakmakçı, Arzu Erbaş Çakmakçı's husband, urged the Dutch police to shed light on the murder, the Cihan news agency reported. Hakkı Çakmakçı's cousin, Hasan Çakmakçı, meanwhile, told Cihan that Arzu Erbaş Çakmakçı had been receiving threats lately.
"She had been very successful in the Netherlands; she received awards, and we were proud of her," Hasan Çakmakçı said. "Unfortunately, there is racism and xenophobia in the Netherlands. There is also a dispute over interests. Those jealous of Arzu's success may have done this because she had t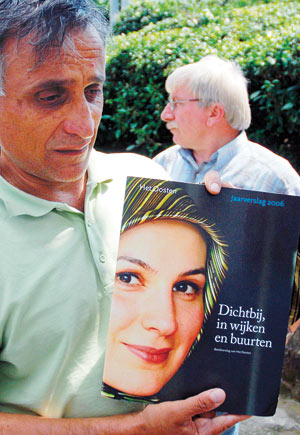 hree daycare centers with 350 children attending. She had in recent times been receiving threats," he added.
Her neighbors were also at a loss as to who would want to kill her. One of them complained of high crime rates in the neighborhood. "This neighborhood is really not safe. There are many incidents of theft here," resident Esma Eroğlu was quoted as saying by Cihan.
As of Wednesday, it was not yet clear when Arzu Erbaş Çakmakçı's body would be brought to Turkey. News reports said earlier that she will be buried in her hometown in the Black Sea province of Rize.
In Rize, her mourning father, Mustafa Erbaş, sounded disconsolate while speaking to reporters on Monday after learning about his daughter's killing.
Noting that his daughter was known for her charity work helping poor families both in Rize and in the Netherlands, Erbaş, showing a Dutch magazine issue whose cover featured his daughter, added: "She was received and awarded by the Dutch royal family for her charity work. A magazine in the Netherlands published a cover story about her because of this.
I want those who killed my daughter to be found at once. She harmed no one. I don't have any information as to why she was killed. It is difficult to understand why this would happen to somebody who paid taxes to the Dutch state, was received by the royal family and was loved in her neighborhood."
 
TODAY'S ZAMAN WITH WIRES, ANKARA
http://www.todayszaman.com/tz-web/news-183840-womans-killing-in-amsterdam-raises-suspicions-of-hate-crime.html