---
Join us for our annual demonstration in support of the oppressed people of Palestine.
"The Quds Day is a universal day. It is not an exclusive day for Quds itself. It is a day for the oppressed to rise and stand up against the arrogant." – Imam Khomeini
WHEN: Sunday, 10 June 2018 at 3pm
WHERE: Saudi Arabia Embassy, Curzon Street W1J 7US, London (nearest stations: Green Park, Hyde Park Corner)
Watch the speeches from the rally LIVE on IHRC.TV – follow @IHRC on Twitter for updates
Safety advice for Al Quds Day attendees
WATCH THE TRAILER: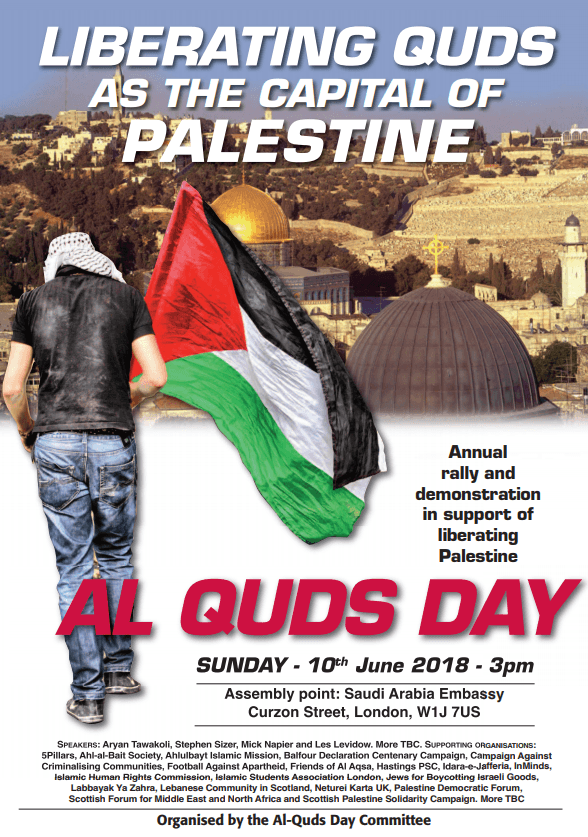 Speakers:

Les Levidow – Campaign Against Criminalising Communities
Les Levidow helped to set up the Campaign Against Criminalising Communities (CAMPACC), initially to oppose the UK's Terrorism Act 2000, alongside various migrant communities opposing its bans on national liberation movements such as the Kurdistan Workers Party (PKK) and the Tamil Tigers (LTTE).  CAMPACC has also opposed all subsequent anti-terror legislation with its executive powers of punishment without trial. Previously he was involved in related campaigns, e.g. against the Prevention of Terrorism Act 1974, the Italy '79 Committee, and the Free Samar and Jawad Campaign (Palestinian political prisoners in the UK).  He also has opposed Zionist colonisation, e.g. through the 1980s campaign against the Israeli Law of Return, Jews for Boycotting Israel Goods (J-BIG) and the British Committee for the Universities of Palestine (BRICUP).  Also Free Speech on Israel, which has targeted the smear campaign making false allegations of antisemitism since 2016.
Mick Napier – Scottish Palestine Solidarity Campaign
Mick Napier is a founder member and has been active in the Scottish Palestine Solidarity Campaign since 2000. He has been on trial for activities arising out of BDS campaigning for six of the last eight years, successfully defeating all of the serious charges. Leaked emails reveal that the US State Department intervened (unsuccessfully) to reverse SPSC boycott victories against the Israeli Embassy in Scotland. He is a frequent contributor to Press TV
Stephen Sizer is the director of Peacemaker Trust, a registered charity dedicated to peacemaking, especially where minorities are persecuted, where justice is denied, human rights are suppressed or reconciliation is needed. Stephen was ordained in 1983 and served as a curate in St Leonard's on Sea, Sussex (1983-1986). He is the author of three books, In the Footsteps of Jesus and the Apostles, (Eagle, 2004) Christian Zionism: Roadmap to Armageddon (IVP, 2004) and Zion's Christian Soldiers: The Bible, Israel and the Church (IVP, 2007). His books have been translated into Arabic, Farsi, Korean and Spanish. He also writes occasionally for various journals and magazines.
Massoud is a veteran human rights campaigner, who began his activism on campus at UC Berkley during the anti-Vietnam protest movement in the late 1960s. He came to the UK in 1971 and has worked in the voluntary sector for some 15 years.  In 1997 he helped to set up the Islamic Human Rights Commission with a group of other Islamic activists working on different international and national projects. He has authored several papers and reports on Islamophobia and human rights, including, The Oldham Riots, Muslim Profiling, Islamophobia: The New Crusade and Whose Rights Are They Anyway?, published by the British Council.  Shadjareh has completed postgraduate studies in Cambridge and London in International Relations.
Aryan Tawakoli – Islamic Student Association London
More TBC
Supporting organisations:
5Pillars
Ahl-al-Bait Society
Ahlulbayt Islamic Mission
Balfour Declaration Centenary Campaign
Campaign Against Criminalising Communities
Football Against Apartheid
Friends of Al Aqsa
Hastings PSC
Idara-E-Jaaferiya
InMinds
Islamic Human Rights Commission
Islamic Students Association London
Jews for Boycotting Israeli Goods
Labbayak Ya Zahra
Lebanese Community in Scotland
Neturei Karta UK
Palestine Democratic Forum
Scottish Forum for Middle East and North Africa
Scottish Palestine Solidarity Campaign
What is Al Quds Day? Learn more about the day HERE