Join IHRC for an author evening with Asim Qureshi to discuss his book 'A Virtue of Disobedience', published in April 2018
WHERE: IHRC Bookshop, 202 Preston Road, Wembley, London HA9 8PA
WHEN: Monday, 8 October 2018 from 6.30pm
About the book:
A new work of political philosophy, in which Asim Qureshi reflects on injustice in the world he sees around him. Covering issues from torture and extrajudicial killings, to racism and discrimination, A Virtue of Disobedience takes the reader on a journey through the history of oppression, and begins a conversation about how previous acts of resistance and disobedience, through faith and virtue, can be liberating in the range of contemporary issues communities face today.
Also included in the book is the poem 'A Virtue of Disobedience,' by poet and writer Suhaiymah Manzoor-Khan, who graduated from a history degree at Cambridge University and master's in Postcolonial Studies at SOAS. She writes and speaks about politics, race, gender, feminism, Islam, being visibly Muslim, Eurocentric academia, decolonising minds and bodies, and more. (Suhaiymah will be contributing to an anthology of essays by hijab-wearing women in Britain called Cut From The Same Cloth.)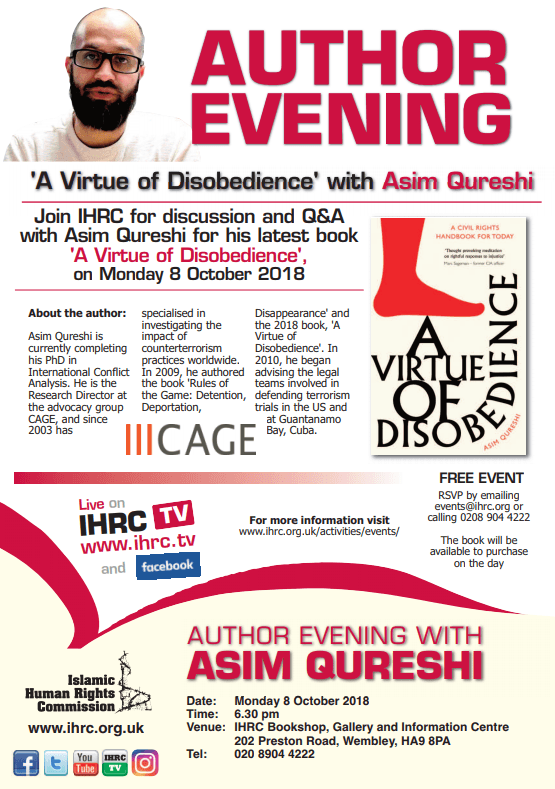 Please save and share the poster
About the author:
Asim Qureshi graduated in Law (LLB Hons) LLM, specialising in International Law and Islamic Law and is currently completing his PhD in International Conflict Analysis. He is the Research Director at the advocacy group CAGE, and since 2003 has specialised in investigating the impact of counterterrorism practices worldwide. He has published a wide range of NGO reports, academic journals and articles. In 2009, he authored the book 'Rules of the Game: Detention, Deportation, Disappearance' (Hurst, Columbia University Press) and the 2018 book, 'A Virtue of Disobedience' (ByLine Books). In 2010, he began advising the legal teams involved in defending terrorism trials in the US and at Guantanamo Bay, Cuba.
This event will be chaired by Muneeza Rizvi
Muneeza Rizvi is a PhD Candidate in the Department of Anthropology at University of California, Davis. Her ethnographic research examines intra-Muslim moral disputation, and how Islamic practitioners in Britain are conceptualizing the Syrian War. Her fieldwork has been generously funded by the Social Science Research Council (SSRC) and Wenner-Gren Foundation for Anthropological Research.
Refreshments will be provided
Please RSVP by emailing events@ihrc.org
This event will be livestreamed on www.ihrc.tv and Facebook.
Please send your questions and comments on Facebook, Instagram and Twitter.