To those acquainted with pro-Israel activism, efforts to shield and promote the Zionist state abroad are part and parcel of their suppression of Palestinian rights. From defending Israeli atrocities in foreign capitals to campaigning against opponents of Israel, Zionist pressure groups are renowned for their energy, organisation and effectiveness in influencing the levers of power.
1.      This year's Al-Quds day had 8000 attendees from all walks of life – Muslim, Jewish, Christian, people of all faiths and none, diverse, etc. The opposition this year consisted of neo-Nazis, the far right, football hooligans and Zionist groups like Zionist federation and the Board of Deputies.
Lately they have turned their attention to the annual Al-Quds Day demonstration in London. Since being inaugurated by Ayatollah Khomeni in 1979, the event has become a permanent fixture in cities all over the world as a general show of solidarity with Palestinians drawing in people of all faiths including Jews, Christians and Muslims. In London thousands of men, women and children regularly turn out to remind the world that the Zionist regime continues its relentless policy of settlement building, confiscating and isolating Palestinian lands, restricting movement and access to the necessities of daily life such as water and medical care and shooting or arresting anyone who dares to resist. The Gaza Strip remains effectively blockaded by Israel on one side and the Egyptian military regime on the other. The siege has crippled the economy with youth unemployment estimated at 60% and some 80% of Gaza's inhabitants dependent on external aid to survive.
Notwithstanding the peaceful nature of the Al-Quds Day protest, pro-Israel campaigners have in recent years identified it as a prime target in their attempts to snuff out pro-Palestinian voices in the UK. Both last year and this year witnessed unprecedented efforts to have the event banned and when those failed, to pressure the authorities to restrict the range of expression that could be permitted.
2.      Al-Quds day has mobilised in London for close to 30 years. Throughout its history it has been a peaceful and family-friendly event. Organisers and attendees have never caused trouble for the police or faced arrest.
It started with pro-Israel groups like Campaign Against Anti-Semitism trying to prevail on the Home Secretary and Mayor of London to ban the protest on the grounds that some participants had historically displayed the flag of Hezbollah. In its homeland and beyond Hezbollah is widely considered to be a liberation and resistance movement and its members hold posts in the current Lebanese government. For reasons that are largely to do with appeasing Israel, the military wing of Hezbollah is a proscribed organisation under domestic anti-terrorism legislation while its political wing is not. Zionist campaigners sought to blur this distinction by painting it as a "loophole" that was allowing "extremists" to support "terrorism" on the streets of London.
It was typical Zionist chicanery, deliberately presenting opponents of Israel as terrorists and hate preachers in order to deflect from the message of the demonstration. Fortunately, neither the Home Secretary nor the Mayor could find a legal pretext to ban the marches. To their chagrin, the former actually not only deemed the event to be legal but agreed with local police by acknowledging that she could not ban an event which was of a peaceful nature.
3.      This year one of the counter-demonstrators was arrested while others had to be kettled by the police for the safety of the public and the attendees of Al-Quds day
At the same time as they tried to use political avenues, various Zionist campaigners and organisations conducted a social media and media drive to whip up outrage amongst the British public. Seeking to cynically exploit the revulsion caused by terrorist attacks in Manchester and London, they sought to demonise Al-Quds Day as an incitement to terrorism to the extent that in 2017 Darren Osborne took their campaign to heart and tried to murder Al-Quds Day attendees. He failed in his original plan to attack the demonstration but went on to murder a Muslim worshipper in north London's Finsbury Park. The attack demonstrated the extent to which the campaign had influenced some members of the public. However, on the whole it succeeded in mainly galvanising the racist far-right whose supporters turned up in 2017 and again in 2018 to scream Islamophobic abuse at women and children alongside their Zionist bedfellows. The abuse from pro-Israel campaigners and the far-right quarters included chants such as "Allah is a paedo", "Muslim terrorist", "you're all terrorists. Get out of our country. This is England", "You teach 4-year old's how to murder Jews on Palestinian TV" and "child killers". Their campaign was essentially a coalition of Zionist / pro-Israel groups alongside neo-Nazis and the far-right. Ordinary members of the British public were conspicuously absent from their counter-demonstrations.
4.       Two Home Secretaries said the event was peaceful and legal and they would not ban it despite numerous letters and petitions from Zionists.
The intimidation of pro-Palestine activists hasn't stopped there. Zionist pressure groups have sought to browbeat the most vocal of them by pressing for prosecutions for alleged breaches of the law. Following the 2017 Al-Quds Day demonstration, the Campaign Against Anti-Semitism (CAA) launched a private prosecution against activist Nazim Ali claiming that comments he made during the protest associating Zionist donors with the Tory party and holding them indirectly responsible for the fire at Grenfell Tower had caused alarm or distress to Zionists, Zionist rabbis and those associated with the Jewish Board of Deputies who were taking part in a counter-demonstration.
5.      The Mayor of London has accepted the right of freedom of assembly of Al-Quds attendees.
The CAA has emerged as one of the most vocal pro-Zionist pressure groups in the UK. It was formed in August 2014 during a major Israeli offensive against Gaza in which 1500 civilians were killed of which 800 were women and children. Its purpose was to paint Palestine solidarity campaigning and opposition to Zionism, Israel's state ideology, as anti-Semitic. The conflation of anti-Zionism which is opposition to a political ideology with anti-Semitism which is defined as opposition to Jews as a race is an oft-employed weapon designed to scare opponents of Zionism and Israel from voicing their criticism.
6.      The police have said the event is peaceful, legal, and that no crime has ever been committed by Al-Quds day attendees.
The CAA prosecution came despite the fact that senior police officers involved in Al-Quds Day 2017 did not believe any public order offences took place. Nonetheless, they harangued the police to pass the matter to the CPS (including their counter-terror team!). Two separate CPS teams twice dismissed the CAA's claim that Nazim had committed a crime. Having failed to persuade the police and the CPS, they decided to continue harassing Nazim via a private prosecution. Viewing the prosecution as an abuse of judicial process and an attempt to silence anti-Zionist voices, the Islamic Human Rights Commission (IHRC) successfully petitioned the CPS to take over the case and drop the prosecution. The CPS stated again that no crime had been committed. Despite all of this, the CAA is now threatening to continue this harassment by bringing judicial review proceedings. The CAA will stop at nothing to silence pro-Palestine activists, even when law enforcement officials are repeatedly telling them they do not have the right to silence people; they will still seek to exploit the legal system to crush their opponents.
7.      This was reaffirmed by the judge who sentenced Darren Osborne for his terror attack against Finsbury Park Mosque.
8.      CAA complained to the CPS and the CPS have said on 5 separate occasion[i], involving three separate teams, that no crime was committed by Nazim Ali. Despite this the CAA is threatening to continue its demonisation of Nazim Ali.
The campaign against Al-Quds Day has shown us that the pro-Israel lobby are seeking to control how people display their opposition to Israel's crimes. The oppressed have a voice only if the oppressor approves what is being said and done. As part of this control, they are seeking to silence any discussion about the Palestinians internationally recognized right of resistance to Israeli occupation. It does not matter to the Zionists that pro-Palestine activists are acting within the law, they will do whatever they can to demonise them and undermine their rights.
9.      Their media strategy to demonise Al-Quds Day has backfired. They have only been able to gain support from the far-right and extreme Zionists like supporters of the terror group JDL.
The concerted campaign against Al-Quds Day is typical of the pro-Israeli lobby's tactics which revolve around manipulating the legal process and the mass media to consolidate its claims to a monopoly over discourse surrounding Zionism and Israel. The conflation of anti-Semitism with Zionism is central to this new discourse and seen as key to snuffing out any criticism of Israel. While some pro-Palestine campaigners have tip-toed around the issue or been brow-beaten into toning down their criticisms, this defeat of the Zionists is a rare but salutary reminder that with a little determination and skill it is possible to challenge their false narratives and pernicious activities.
—- Massoud Shadjareh; IHRC Chair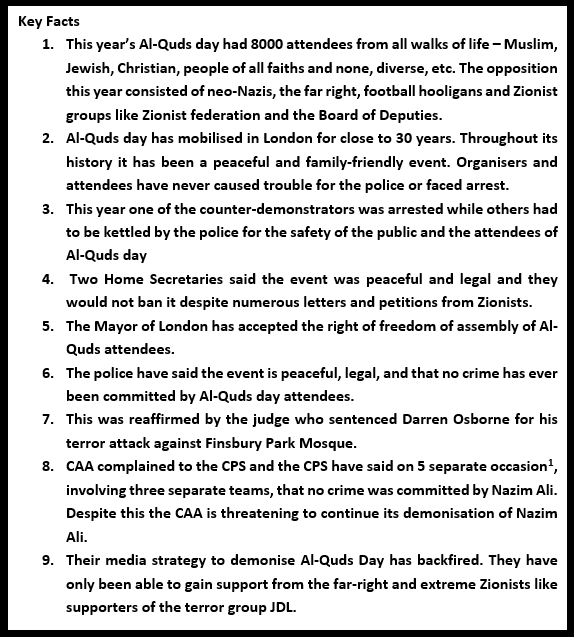 ---
[i] In total the CPS said no crime was committed by Nazim 5 times: the CAA initially approached two CPS teams to investigate, both said no crime was committed. The CAA asked both teams to review the decision, both teams said again, no crime was committed. The CAA then brought their private prosecution, at which point the CPS was asked to intervene, they stepped in and said for a fifth time, no crime was committed by Nazim.