We have a few announcements.
Join us today for an author evening with Suhaiymah Manzoor-Khan to discuss her latest book, Tangled in Terror: Uprooting Islamophobia.
Purchase a copy of Tangled in Terror from the IHRC Bookshop. To attend the public event, registration is required. Please book your ticket here.
WHEN: Monday, 23 May, 2022, 6pm GMT+1
WHERE: IHRC Bookshop (202 Preston Road, Wembley, London HA9 8PA) or watch LIVE on www.ihrc.tv, Facebook and YouTube.
Critical Muslim Studies: Decolonial Struggles and Liberation Theologies
Granada, Spain – June 13 – June 17, 2022
Critical Muslim Studies is inspired by a need for opening up a space for intellectually rigorous and socially committed explorations between decolonial thinking and studies of Muslims, Islam and the Islamicate. Critical Muslim Studies does not take Islam as only a spiritual tradition, or a civilization, but also as a possibility of a decolonial epistemic perspective that suggests contributions and responses to the problems facing humankind today.
The Granada Summer School began in 2011 as a means of acknowledging the linkages between the conquest of Granada (Al-Andalus) and the conquest of the 'Americas.' It has established itself as the primary centre in the world for Critical Muslim Studies. The school welcomes participations from Muslim and non-Muslim heritages and associations. The seminar will be held in the Escuela de Estudios Arabes. This year's instructors include internationally recognized scholars and intellectuals from a range of disciplines:
Salman Sayyid – Hatem Bazian – Ramon Grosfoguel
Houria Bouteldja – Farid Esack – Asma Lamrabet – Santiago Slabodsky
Nelson Maldonado-Torres – Arzu Merali – Tajul Islam
Asma Barlas – Jasmin Zine – Amina Teslima
You can check the web page for more information as well as applying to the Summer School, and please, do forward this message widely to potentially interested people and networks.
International Children's Day and International Day of Innocent Children Victims of Aggression are coming up on the first week of June.
The World Conference for the Well-being of Children in Geneva, Switzerland, proclaimed 1st June  to be International Children's Day in 1925. It is usually marked with speeches on children's rights and wellbeing, and other events involving or dedicated to children.
A similar event, World Children's Day, falls on 20th November. It was established by the United Nations in 1954 and aims to promote the welfare of children around the world.
As you are aware, children are among the first victims of war and conflicts. At IHRC, we run campaigns to fundraise for the people around the world including the Rohingya, the Uighurs, the people of Yemen, Nigeria and Palestine. To donate, please click here.
Scroll down to see a list of resources in relation to International Children's Day and International Day of Innocent Children Victims of Aggression. Please browse our shop website for more information and additional resources.
Throwback – Book Launch: Tales of Mini Maryam
In October 2020, IHRC hosted an online book launch with Kosser Abdul Aziz on her book Tales of Mini Maryam. Please click below to view the event.
Kosser Abdul Aziz is a motivational public speaking coach for women and children, as well as a TV Presenter, Compère, published Author and CEO of a social enterprise, Alburouge CIC, providing subsidised educational and recreational activities for Muslim children and women living in the London Boroughs of Brent and Ealing.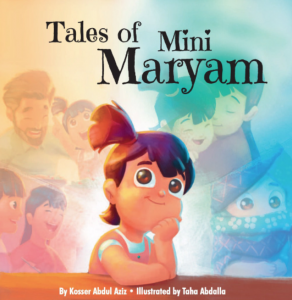 About the Book:
Welcome to the delightful world of 3 year old Maryam captured and delivered with 6 heart-warming short stories.
Maryam whizzes around her house collecting and loading almost everything on to her tiny push chair, only to be met with disaster but, is all at loss? No, for Maryam remembers the power of dua (prayer).
What do we say after we have sneezed? Why do people go on pilgrimage? Can mini Maryam pray with her family? What do we say before we eat? Curious mini Maryam soon finds out.
Join Maryam as she discovers when and why to read certain Islamic prayers and to also keep her family in check!
With fantastic and engaging illustrations by Taha Abdalla.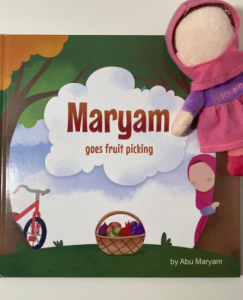 Maryam Goes Fruit Picking – Abu Maryam
Little readers will follow Maryam through her journey in picking the five fruits mentioned in the Qur'an and Sunnah.
Comes with a free little Maryam doll!
Nusaybah wishes she wasn't so different from Laura, the most popular girl in school. Perhaps, if they were more alike, Laura would like her.
Should Nusaybah change herself to gain Laura's friendship?
Or can she be liked for who she really is?
This is a story about a mermaid, who is different in terms of faith, appearance and lifestyle. She struggles to 'fit in', and faces challenges due to this, and all she wants is to be accepted for who she is. This story will encourage dialogue around the concept of self-discovery, acceptance and being unique.
Illustrated by Azra Momin.
There used to be an empty chair at the back of my class, but now a new boy called Ahmet is sitting in it.
He's nine years old (just like me), but he's very strange. He never talks and never smiles and doesn't like sweets – not even lemon sherbets, which are my favourite!
But then I learned the truth: Ahmet really isn't very strange at all. He's a refugee who's run away from a War. A real one. With bombs and fires and bullies that hurt people. And the more I find out about him, the more I want to help.
That's where my best friends Josie, Michael and Tom come in. Because you see, together we've come up with a plan. . .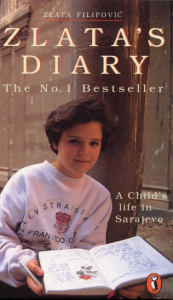 Zlata's Diary – Zlata Filipovic
Zlata's Diary takes us inside of a war, and touches us in a way journalism cant. She begins her diary in September 1994 as any girls would in a normal, happy time. However through her entries we see how the war disintegrates her life as she records her innermost thoughts and feelings. Yet there is still an undeniable hope to Zlata's diary as she tries to celebrate special occaisions and learn at school, even as she logs the chilling events that are happening around her.
This book was written by Zlata for all the children in Bosnia affected by the war, and went on to become a No.1 bestseller.
Ahed Tamimi received prominent media coverage internationally when she was arrested by the Israeli Occupation authorities shortly before Christmas 2017. Israeli soldiers forced their way into the Tamimi's home at night time, and arrested Nariman and Bassem Tamimi's 16-year-old daughter, Ahed. The day before, there had been a demonstration to protest against the Occupation Army's use of force when Ahed's 14-year-old cousin Muhammed was shot in the face during another demonstration.