Suffering, malaise and instability is still rife in the lives of countless disenfranchised Palestinians who fled their country following the 1948 Arab-Israeli conflict in 1948, losing both their homes and their livelihoods.
Of the 711,200 Palestinians who escaped, one third live in recognised refugee camps in Jordon, Lebanon, Syria, the West Bank and Gaza Strip. Others have settled around the world, only to be faced with more troubles and tribulations.
The street camp in Norway has around 45 registered members. For six months they have been sleeping on the roads, with no electricity, running water or bathrooms and they cook on an open fire. Dana Mahmoud, an educated Palestinian refugee, describes these as 'very difficult conditions' and says it would have been 'impossible' to survive the six months without the help of 'kind people.'
Moreover, she has described the camp as a 'very organised project.' There are watchmen to ensure the members' safety at all times and members take turns in cooking, washing and cleaning. The members regularly take the opportunity to talk to the public about their cause explaining why they prefer sleeping in the tents rather than living in a refugee camp unheard and unacknowledged.
Mohammad, from Palestine, arrived in Norway ago seeking a better standard of life. He joined the camp after he was rejected asylum by the Norwegian Government.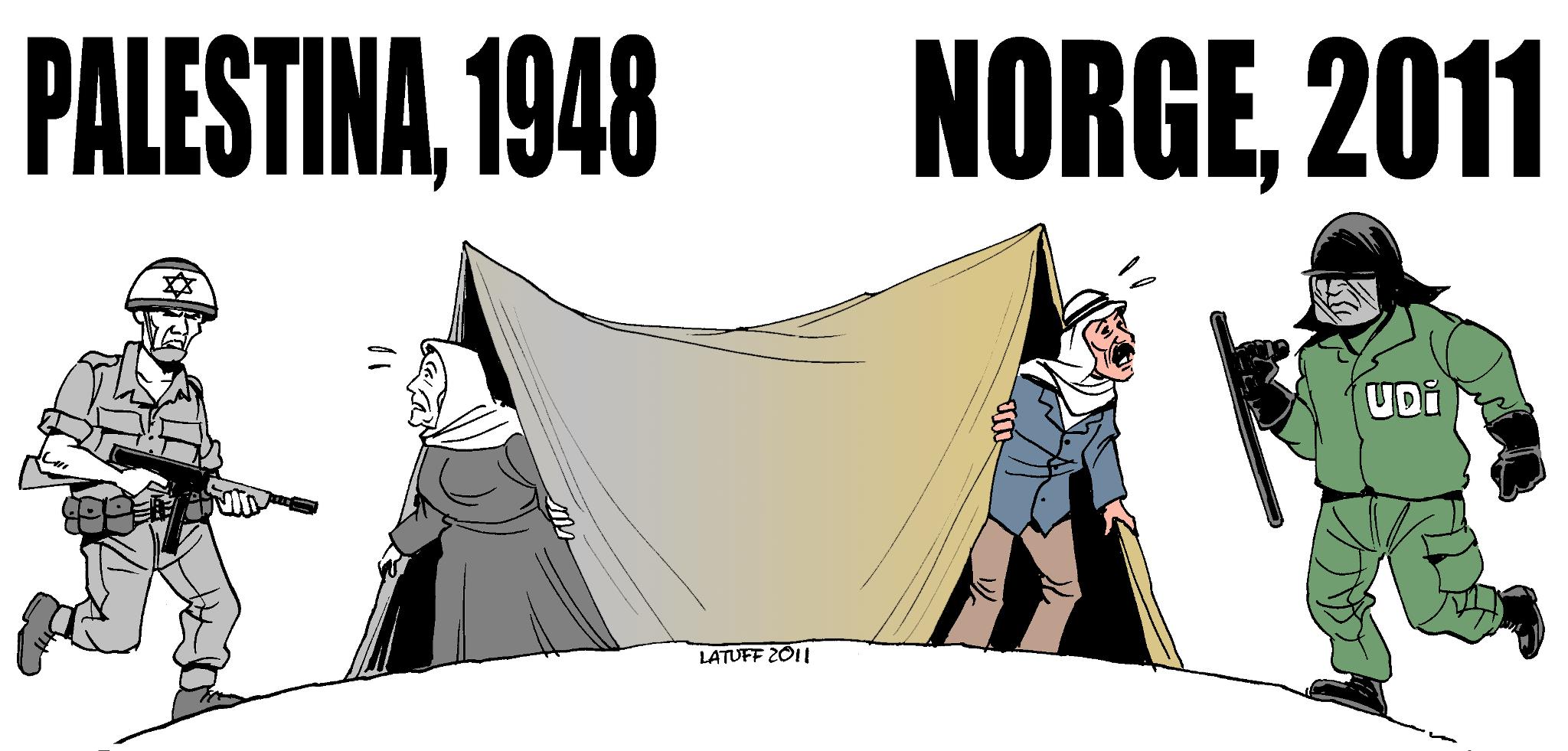 The refugees have received help from individuals and some NGOs, including the Norwegian Centre against Racism (NCR). The NCR opened a bank account for the camp to receive financial support for legal assistance the members of the camp require, in addition to getting media coverage and raising the cause with politicians. Carlos Latuff, a freelance political cartoonist, has drawn artwork explaining their pain and suffering. Many people have also helped on an individual level, donating sleeping bags, tents and food.
The stateless Palestinians in Norway are confident that without their camp, the negligence they'd receive from the Norwegian Government would eventually cause them to diminish. They are in search of a country where they do not have to live in constant fear of deportation. They have been denied as citizens, rejected the right to work, to enrol in universities and to reside legally.
Dana says "We are in Norway to have a life, not to make our lives better. We are here because we wish to be protected by a country, and to gain our freedom!" If they are deported from Norway, with such little international and state support, their options will be exceedingly limited. She says some people may be able to go back to Gaza or the West Bank where there is a great chance they could be detained in Israeli prisons or killed in arbitrary attacks, while others won't even have a place to go back to.
The Palestinians in Norway call the international community to stand with them, protest against their unfair treatment and to support them morally and financially.
Dana's Story
Dana's family is originally from Haifa, a part of Palestine now claimed by Israel. Her grandparents moved to Iraq in 1948, fearing their safety, following the 1947 United Nations General Assembly Resolution 181 (11) 'Future Government of Palestine.'
Dana Mahmood, described by herself as a Palestinian-Iraqi female, held a legal document allowing her to live to Iraq and other countries including the United Arab Emirates (UAE). Her document expired in 2006, when the new Iraqi Government took over and decided not to renew it, making her and her family stateless.
Dana's parents married in Iraq and moved to the UAE where her and her three sisters were born. After an episode of lung cancer, her father passed away in 1997 leaving his family helpless.
In 2006, when their documents expired, they searched for a legal escape. Dana applied for asylum in Norway, in 2008, only to be rejected for two reasons. Firstly, their 1948 document of permission from Iraq had been discontinued, and secondly, since they had been living in the UAE, not Iraq, and were therefore not considered as victims of war.
Dana was desperate for help. She contacted both the Palestinian and Iraqi Embassies in Stockholm. The Palestinian Embassy could not offer help since they did not come from the Gaza strip, and the Iraqi Embassy told them they could not return to Iraq after living abroad for over six months.
On 2 August 2011, Dana's newly appealed case was faced with a final rejection, leaving her and her family helpless. Dana says she feels as though she has been 'left with no life' with no valid residency or official recognition from the countries of their past and the country in which they currently live – Norway.
Dana says "Now our future is vague. We are adrift in pain, with no legal place to go. We are stateless and paperless. I'm currently working hard to help myself and family to settle down in a country that I can call home without fearing being deported…"
To see pictures of the camp, please go to the IHRC Gallery here.
If you are a member of the press and want more information on this story please contact the IHRC Office on +442089044222 or +447958607475 or call Norway on +4799859401 or email info@ihrc.org.  We will forward your contact to representatives of the refugees in the camp.